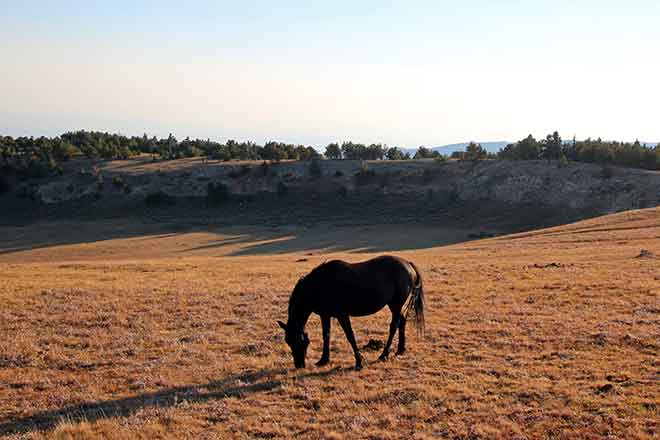 Published
Friday, October 25, 2019
By Derek Draplin | The Center Square
The U.S. Bureau of Land Management (BLM) says over 7,100 wild horses and burros were adopted in fiscal 2019.
The agency says that's a 54 percent increase in adoptions from the more than 4,600 animals adopted last year. The BLM attributes the increase in part to a new adoption incentive program launched in March. It also cited more placement events and an increased number of horses and burros being offered for the increased number of adoptions.
"We are thrilled to see the tremendous response from the American people to our new adoption initiatives," U.S. Interior Department Acting Assistant Secretary for Land and Minerals Management Casey Hammond said in a statement. "Adopted animals are given good homes and contribute to healthier herds, and is a testament to how strongly our nation is committed to participating in the success of public lands."
The BLM is responsible for managing herds in 10 western states, which contain an estimated 88,000 wild horses and burrows wandering 27 million acres of public rangelands.
The BLM says that population "is more than triple the number of animals the land can sustainably support in conjunction with other legally mandated uses."
To mitigate the increasing population of the wild animals, the BLM houses 46,000 animals in off-range corrals and pastures - but that practice is costly at $50 million a year in maintenance costs for the bureau.
Under the BLM's incentive program, the agency offers $1,000 to adopt and board an animal, in addition to auctioning off some animals.
Of the 7,100 adoptions in 2019, 53 percent were through the new program, the BLM said.
The BLM is committed to paying out about $2.7 million - $1,000 for each of the 2,708 animals adopted between March and the end of fiscal 2019 - according to an estimate by The Center Square. (The bureau pays adopters $500 within 60 days of adopting an animal and another $500 within 60 days after the animal is titled.)
The Property and Environment Research Center, a free-market environmental group based in Bozeman, Montana, told The Center Square in April that the new incentive program would save taxpayer dollars, since the cost of animal maintenance is so high.
"It makes sense to spend $1,000 upfront to save $50,000 over a horse's lifetime," said Hannah Downey, a policy coordinator for the center. "Getting more animals off the range through adoptions will relieve pressure on our public lands, saving horses from starvation and improving the health of western ecosystems and wildlife habitat."
U.S. Congressman Joe Neguse, D-Colorado, along with several other lawmakers, on Wednesday sent a letter to Interior Secretary David Bernhardt requesting an overdue report on the BLM's wild horse and burro program.
"For years, the Bureau of Land Management - who are tasked with managing these herds - has had inefficient and vague management strategies for ensuring these treasured animals are able to thrive," Neguse said in a statement. "This report is essential to the responsible development of the Wild Horse and Burro Program, to ethical and humane treatment of these animals, and to Congress's understanding and oversight of the Bureau's proposed methodologies."
Animal rights and wild horse advocacy groups have criticized the BLM for inhumane management practices in the past.
"For years, BLM has mismanaged our iconic American wild horses by relying on inhumane and ineffective removals and continuously proposing and prioritizing cruel practices," Holly Gann of the Animal Wellness Foundation said.