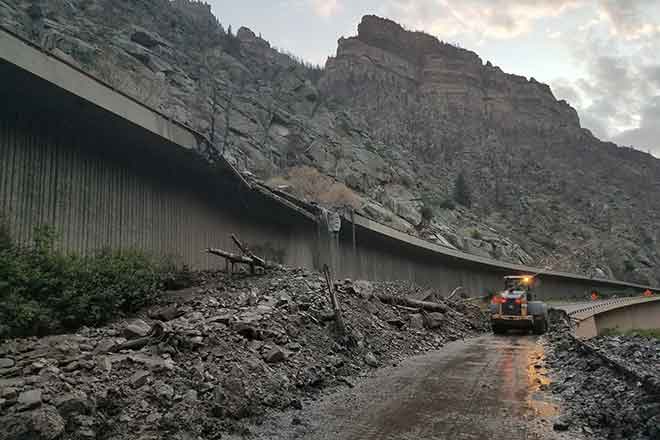 Published
Tuesday, August 10, 2021
(The Center Square) - Colorado Governor Jared Polis sent a letter to federal transportation authorities Monday seeking more than $116 million in emergency funding to help rebuild parts of I-70 through Glenwood Canyon that were damaged by multiple mudslides.
The funding request covers several estimated expenses associated with recovering the roadway, which includes approximately $4 million to debris removal, $10 million to build an alternate pathway around the damaged area, and $50 million for "future resiliency and redundancy studies," according to the letter.
Because of the severity of the damage, Polis is seeking an expedited payment of 10%, or $11.6 million. The request follows two executive orders the governor issued last week declaring a state of emergency along the roadway and dispatching emergency services to the area.
"The ongoing closure of I-70 continues to strain people and communities throughout the region and western Colorado, and also has significant implications for interstate travel and commerce," the letter reads in part.
"The corridor is vital for everything from long-haul freight to movement of agricultural products across the state to the ecotourism economy. I-70 provides critical connectivity for communities in Eagle, Garfield, and Pitkin counties and serves as the state's main east-west thoroughfare for people and commerce," the letter continues.
The mudslides on I-70 were caused last month by heavy rainfall in areas where wildfires burned. The damage resulting from the mudslide permanently reshaped part of the Colorado River, KKTV reported.
State transportation officials say it's unclear how long the repairs will take. Crews have not been able to dig out most of the debris and are still finding new damage.
Alternate routes for travelers include the Highway 82 pass between Glenwood Springs and Gypsum. However, transportation officials caveat that this path isn't meant for the traffic volume that typically travels down I-70.
Cottonwood Pass will also lead travelers away from the damage, but Polis argues in the letter that improving the pass could cost as much as $50 million, "subject to further assessment which could increase this number."
Travelers can also head north around the damage by taking Highway 40 between Rifle and Granby.