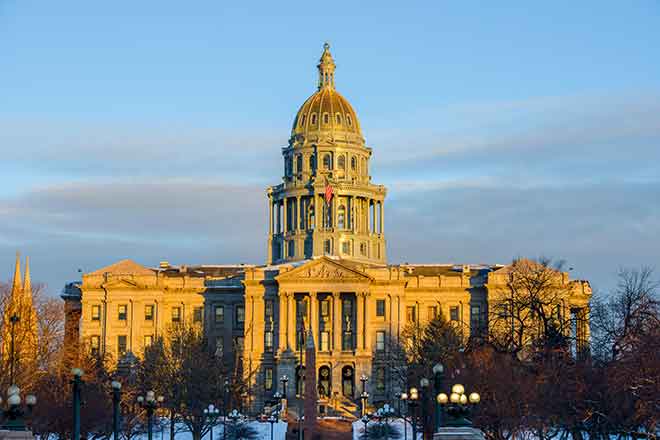 Published
Tuesday, November 10, 2020
(The Center Square) - Colorado's 24-member Republican House caucus elected new leadership on Monday in a meeting highlighting the party's internal disagreements.
Rep. Hugh McKean, R-Loveland, a three-term legislator, was elected minority leader on a second ballot vote over current Assistant Minority Leader Kevin Van Winkle, R-Highlands Ranch, and Rep. Tim Geitner, R-Falcon. The post was made available after Rep. Patrick Neville, R-Castle Rock, announced he would not seek reelection on October 9.
Geitner was selected as assistant minority leader on Monday. Rep. Rod Pelton, R-Cheyenne Wells, will be the next minority whip, while Rep. Janice Rich, R-Grand Junction, will replace Rep. Lori Saine, R-Dacono, as the party's caucus chair. Rep. Kim Ransom, R-Lone Tree, was appointed to the Joint Budget Committee.
Colorado Senate Republicans last week elected Sen. Chris Holbert, R-Parker, as Senate minority leader and Sen. John Cooke, R-Greeley, as assistant minority leader.
Rep. Dave Williams, R-Colorado Springs, was a popular choice for House asst. minority leader but declined his nomination citing his concern for the party's direction.
"There's a lot of talk about unity within this caucus, and unity is a lofty goal, but I do foresee challenges within this caucus because there are two different paths the various groups in our caucus want to take," Williams said.
One reason for the party's division, according to Williams, is that local news media stories often try to entice in-fighting within the caucus. He cited a recent article from Colorado Politics published before the vote wondering whether the party would seek a new strategy or stay the course.
Republicans have held the majority in the House just once since 2004. Since then, the party has seen its seats drop from a high of 31 in 2014 to 24 in 2020.
Neville was elected minority leader in 2017 under the auspice of restoring a Republican majority to the House. Since his election, the party lost four seats, culminating in Democrats flipping the House District 38 seat.
"Our main mission should be getting to 33 votes," Williams said. "If we're all fighting over the scraps Democrats left us on the dinner table, then there is no hope for this state."
Democrats selected new leadership last week after successfully retaining their trifecta in state government.
Rep. Alec Garnett, D-Denver, will serve as House speaker, and Rep. Daneya Esgar, D-Pueblo, as House majority leader. Sen. Leroy Garcia, D-Pueblo, will serve another term as Senate president, while Sens. Kerry Donovan, D-Vail, and Jeff Bridges, D-Greenwood Village, will serve as president pro tem and the new majority whip, respectively.
The first day of the 2021 legislative session is scheduled for January 13, 2021.