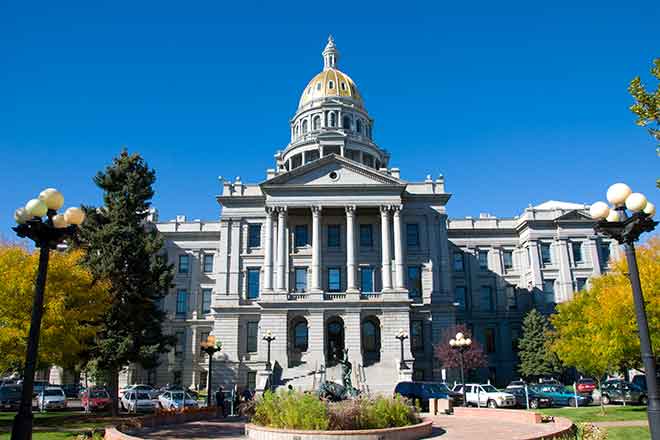 Published
Friday, April 2, 2021
(The Center Square) - Colorado lawmakers introduced legislation this week that's part of the state's stimulus plan.
The eight bills introduced address a range of issues, including infrastructure, rural economic development, agriculture, and workforce development, and nearly all have bipartisan support.
"Our goal with this stimulus package is to get funds out the door as quickly and efficiently as possible," Senate President Leroy Garcia, D-Pueblo, said in a statement.
"Coloradans have been struggling under the weight of this pandemic for more than a year now, so it's exciting to say that additional relief is finally on the way," he continued.
Governor Jared Polis along with General Assembly leadership announced the COVID relief spending package last month, which will use one-time funds made possible by improved budget projections.
Senate Bill 21-232 would appropriate $15 million for the Colorado Opportunity Scholarship Initiative's Displaced Workers Grant, a program that is estimated to serve as many as 3,000 Coloradans.
The bill is sponsored by Sens. Rachel Zenzinger, D-Arvada, and Barbara Kirkmeyer, R-Brighton, and Reps. Cathy Kipp, D-Lyons, and Shannon Bird, D-Westminster.
Similarly, the only bill introduced in the House, HB21-1253, would invest $5 million to grow the state's renewable energy job market. It is sponsored by Reps. Meg Froelich, D-Englewood, and Matt Gray, D-Broomfield, and Sen. Faith Winter, D-Westminster.
SB21-230 was introduced to support the aims of HB-1253. The bill would allocate $40 million to the Colorado Energy Office (CEO) for the purpose of financing clean energy projects. Funds may also be used to increase the number of EV charging stations across the state.
The Democratic coalition supporting the bill includes Sen. Chris Hansen, D-Denver, and Reps. Alex Valdez, D-Denver, and Tracey Bernett, D-Boulder.
To support the state's rural communities, three bills were introduced that would provide economic development grants and financial support for the state's agricultural economy.
SB21-229 directs $3 million to the Rural Jump Start Grant Program, which helps economically distressed communities attract new businesses. Establishments can receive grants up to $20,000 for starting a new business and up to $2,500 for each job created.
Sens. Jessie Danielson, D-Wheat Ridge, and Tammy Story, D-Conifer, sponsored the bill alongside Reps. Judy Amabile, D-Boulder, and Hugh McKean, R-Loveland.
Colorado's Rural Economic Development Initiative (REDI) Grant program would get an additional $5 million if SB21-204 is passed. The program helps fund new businesses and expand existing businesses in rural communities.
The bill is sponsored by Sens. Kerry Donovan, D-Boulder, and Bob Rankin, R-Carbondale, and Reps. Mary Young, D-Greeley, and Tonya Van Beber, R-Eaton.
SB21-203 would support Colorado's agriculture businesses by allocating $2.5 million to the Department of Agriculture for use in the Colorado Proud program. It is sponsored by Sens. Jeff Bridges, D-Greenwood Village, and Cleave Simpson, R-Alamosa, and Rep. Rod Pelton, R-Grand Junction.
To support low-income families and children, the package includes bills that would weatherize affordable housing options and provide $10 million in grants for maintenance projects in public and charter schools.
SB21-231 would transfer $3 million from the state's general fund to the CEO to make grants for weatherization assistance programs.
Reps. Michael Weissman, D-Aurora, and Edie Hooton, D-Boulder, are carrying the bill alongside Sen. Dennis Hisey, R-Fountain.
Meanwhile, SB21-202 would allocate $10 million for Building Excellent Schools Today Act grants. The program helps fund air quality improvement projects statewide.
The bill is sponsored by Sens. Dominick Moreno, D-Commerce City, and Paul Lundeen, R-Monument, and Reps. Emily Sirota, D-Denver, and Colin Larson, R-Littleton.