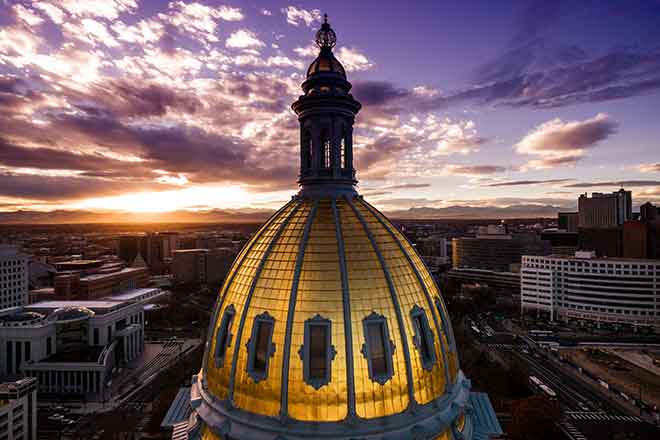 Published
Thursday, March 11, 2021
Derek Draplin | The Center Square
(The Center Square) - Colorado Governor Jared Polis and General Assembly leadership on Wednesday announced a $700 million COVID-19 stimulus package that they say will help boost the state's economic recovery.
"Colorado will be well-poised to build back faster, build back faster," the governor said. "I'm proud of our Colorado leaders in working in a bipartisan way to do that."
Polis said the stimulus will "jump-start Colorado's recovery," and the one-time funds will focus on small business relief, infrastructure, support for families, and workforce development.
The $700 million spending plan comes after the state's budget projections improved for fiscal 2020-21, lawmakers said.
"This stimulus package represents a carefully calculated effort to provide targeted relief to those that need it the most because simply put, Colorado can't recover economically unless we invest in the long-term health of our communities across Colorado," said Senate President Leroy Garcia, D-Pueblo.
Senate Minority Leader Chris Holbert, R-Parker, urged his fellow lawmakers to focus on putting people back to work, reopening schools and providing funding for roads and bridges.
"If a bill falls into one of those categories, you will very likely see Senate Republicans joining to get that bill passed with bipartisan support," he said.
For small businesses, the package will extend allowing some restaurants to retain sales taxes, and also proposes a 10% credit for hard costs of hosting events or conferences "to incentivize and retain events" in the state.
The package includes a proposed $170 million for "shovel ready infrastructure projects" in the state's tourism and wildlife corridors, as well as $50 million to $75 million for expanding broadband.
The proposal also would put millions toward extended learning opportunities for students and funding mental health screenings.
A proposed $20 million to $35 million in grants for diversifying the agricultural sector's supply chain in the state is included in the package, as well as $10 million to $25 million for wildfire mitigation efforts.
The General Assembly passed COVID-19 relief during the last regular session that concluded in June, and a $290 million relief package during a special session late last year.
On Wednesday, the U.S. House of Representatives gave final passage to a $1.9 trillion federal relief bill, sending it to President Joe Biden's desk for his signature.
State and local governments in Colorado are expected to receive $6 billion in funding under the federal legislation.