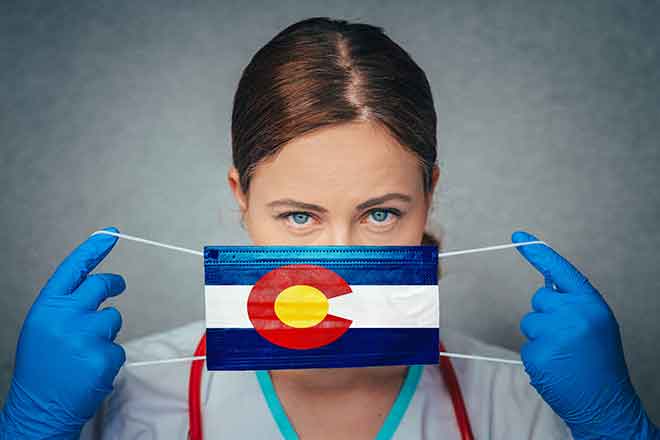 Published
Wednesday, January 6, 2021
(The Center Square) - Colorado's public health order has been amended to include the state's 5-star variance program designed to help businesses reopen amidst the ongoing COVID-19 pandemic.
The Colorado Department of Public Health and Environment's (CDPHE) amended public health order took effect on Monday, just as numerous counties across the state moved from Level Red, or severe risk, to Level Orange, or high risk, on the state's COVID-19 dial framework, loosening restrictions on businesses.
The 5-star program "encourages businesses to implement safety measures beyond what is already required by public health orders and guidelines." Under the variance, businesses like gyms, restaurants, and professional services can begin operating at 25% capacity again. High risk populations are still recommended to stay at home while schools are recommended to prioritize in-person learning.
Nine counties - Broomfield, Jefferson, Douglas, Denver, Elbert, Arapahoe, Summit, Larimer, and La Plata -have been approved for 5-star variances so far.
Last Wednesday, Gov. Jared Polis requested that CDPHE move every Level Red county down to Level Orange on the state's COVID-19 dial, which took place on Monday.
"Colorado has been in a sustained decline for 13 days, and only 73% of ICU beds statewide are in use," the governor said Wednesday. "This is a direct result of Coloradans stepping up and taking the steps to protect themselves and others."
Even though all counties are now listed as Level Orange or below on the state's COVID-19 dial, several are enforcing stricter public health orders until they can qualify for the 5-star variance program. For example, Phillips County has a two-week cumulative incidence rate of 911.6. Similarly, Grand County has a two week positivity rate of 18.4%
To move from Level Orange down to Level Yellow, a county must maintain a seven-day incidence rate between 175 and 350 cases per 100,000 people and cannot have a positivity rate above 15%, the agency said Monday.
Four counties are ranked lower than Orange Level: Jackson, Saguache, Gunnison, and Hinsdale.
Hinsdale County has achieved Blue status, meaning businesses can operate at 50% capacity and up to two households are allowed at personal gatherings.