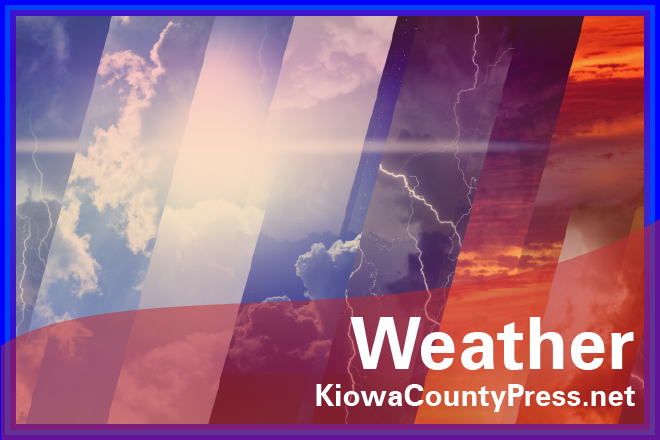 Published
Friday, September 21, 2018
Kiowa County will see some of the coolest temperatures in months this weekend, including a low in the 40s not seen since last spring.
Friday's high will be in the mid-70s under clear and sunny skies, which expected to persist throughout the weekend. Overnight, the low will drop to the mid-40s to help mark the first day of fall Saturday.
Temperatures rebound to the low 80s by Saturday afternoon, with the overnight low dropping to around 50. Winds will be out of the south in the 5-15 mile per hour range.
Mid-80s make an appearance Sunday, which is expected to be the warmest day of the week. Overnight, temperatures will drop to the mid-50s
Looking Ahead
Monday's high drops back to around 80 ahead of a cold front that will set Tuesday's highs back to the upper 60s. A slight chance of thunderstorms is predicted for Monday and Tuesday nights. Daytime highs in the low to mid-70s will continue throughout the remainder of the week, with overnight lows in the upper 40s to low 50s.
Weather information updated around the clock is available athttp://weather.KiowaCountyPress.net
Temperature Forecast - September 21-24

Friday

Saturday

Sunday

Monday

City

High

Low

High

Low

High

Low

High

Low

Haswell

72

46

83

52

85

54

79

52

Eads

74

45

83

50

86

54

80

52

Sheridan Lake

73

44

80

49

84

54

80

52