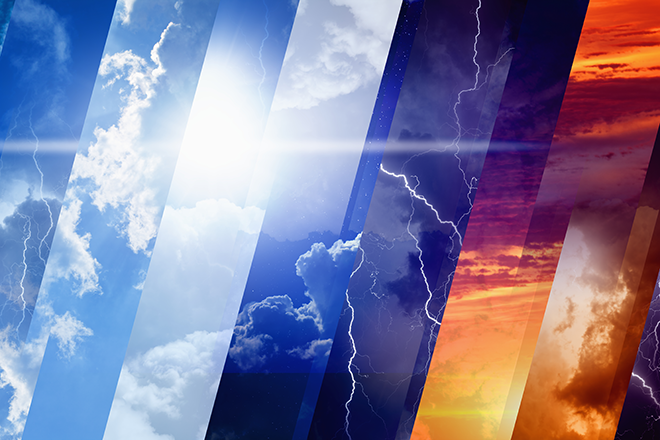 Published
Wednesday, June 12, 2019
Isolated to scattered thunderstorms are possible Wednesday across southeast Colorado, including Kiowa County later in the day.
After reaching the low 80s Tuesday, today's highs are expected to fall back to the mid-70s under partly cloudy skies clearing later in the day. Western Kiowa County can expect temperatures closer to 80.
A chance for thunderstorms returns Wednesday, mainly during the evening hours. The slight chance of precipitation continues Thursday and Friday, with a higher probability coming this weekend.
Overnight, the low will hover around 50.
Currently, KiowaCountyPress.net Live Weather from downtown Eads shows W wind at 2 mph. Tuesday, winds were gusting to 23 mph during the afternoon and early evening hours. The temperature is 15, with 0.00 inches of rain so far today. Yesterday, 0.00 inches of rain was recorded, with a high of 83. The strongest wind gust since midnight was 7 mph, while the high temperature for the day so far was 24 at 12:00 AM.
Elsewhere in Colorado, the spring snow melt continues at higher elevations. Flood warnings are in effect for parts of Saguache and Conejos counties through late morning to mid-day. Flood advisories are in place along portions of the Gunnison, Mancos, La Plata, San Juan and other rivers in western Colorado.
A flood advisory continues through late Wednesday afternoon for parts of Rio Grande, Hinsdale and Mineral counties. Minor to moderate flooding is possible.
Kiowa County Weather Outlook for June 12, 2019

Community

High

Low

Chance of Precip

Wind Gust

Direction

Arlington

79

52

20

10

ENE

Haswell

76

51

20

15

NE

Eads

75

50

20

15

N

Brandon

75

48

20

15

N

Sheridan Lake

74

48

20

15

N

Towner

74

49

10

15

N
Weather information updated throughout the day is available at http://weather.KiowaCountyPress.net.