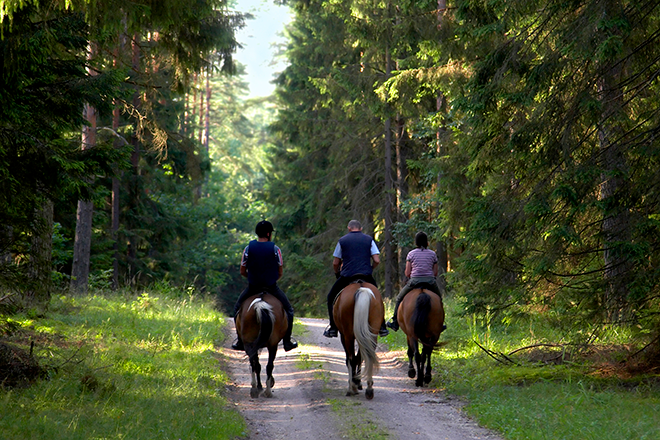 Published
Wednesday, October 31, 2018
Our list of Colorado's best horseback riding opportunities is sure to inspire your next adventure. Discover horseback riding in Estes Park, Colorado, and more here.
There are so many places to go horseback riding in Colorado and experience the beauty of nature. From sleighrides in the wintertime to summer trots through the meadows, there's no better time than now to start planning your next adventure. Not sure where to start your search? Get inspired by our list of the best horseback riding sites in Colorado.
Horseback Riding in Estes Park, CO, and Other Locations
* Rimrock Adventures-- Fruita, CO
Tour McInnis Canyons National Conservation Area on horseback at Rimrock Adventures. Here, you can choose from 1-, 2-, and 3-hour guided rides, as well as wild horse rides. This location is open for visitors from May until September.
* Triple G Outfitters-- Wolcott, CO
Family-owned and operated, Triple G Outfitters offers scenic horseback tours with views of the Sawatch Range, Castle Peak, and Red and White Mountain. Fun and highly experienced guides will put you at ease with safety demonstrations and informational talks before you head out on your ride. You can enjoy horseback rides here year-round.
* Rusty Spurr Ranch-- Kremmling, CO
This 10,000-acre ranch is continually awarded Trip Advisor's Certificate of Excellence. With spectacular views of the Rockies, aspen forests, and open meadows, you can choose either a mountain or meadow horseback ride. You can even take part in an authentic Cattle Drive! The riding season at this ranch is from mid-May through the end of September.
* Cowpoke Corner Corral-- Estes Park, CO
Looking for a place to go horseback riding in Estes Park, CO? Cowpoke Corner Corral has a tour for just about everyone. Little ones will love the pony rides, and those looking for an easy tour will enjoy the 1-hour ride with its majestic views of the mountains and Estes Valley. Experienced riders will be delighted by the 4-hour tour that reaches the top of Rams Horn Mountain and offers views of the Continental Divide, Estes Valley Park, and the Rocky Mountain National Park. This stable is closed during the winter season.
* National Park Gateway Stables -- Estes Park, CO
Another place to go horseback riding in Estes Park, CO, is National Park Gateway Stables. Here you can choose from a wide range of tours, including pony rides, 2-, 4-, and 6-hour tours, half-day tours, and full-day tours. Depending on the tour you choose, you'll venture on horseback through picturesque meadows, over streams, and even up to high-elevation lakes. This stable is closed during the winter.
* Sombrero Ranches, Inc.-- Estes Park, CO
Focused on helping people experience Colorado's Western heritage, Sombrero Stables offers fun and beautiful horseback rides through your choice of locations. Different stable locations include Estes Park, Moraine Campground, Glacier Creek, Snow Mountain Ranch, and Steamboat. Sombrero Ranches is open in the winter for trail and sleigh rides, complete with dinner or hot cocoa!
* Estes Park Outfitters-- Estes Park, CO
On your horseback ride, you will learn how to handle a horse, witness a historic homestead, and enjoy breathtaking views of meadows and mountains. These horseback rides are not nose-to-tail and are offered in small numbers, so you'll experience the peace of nature as well as great stories from your guides.
* Granite Mountain Outfitters-- Villa Grove, CO
Enjoy a summer or fall horseback ride at Granite Mountain Outfitters. Experienced wranglers will take you and a small group of others on your choice of 1- or 2-hour, half-day, or full-day tours. While you're on your horseback ride, you may see the Crestones, the Sierra Blanca, Mount Shavano and Tabeguache Peak, Mt. Ouray, the Great National Sand Dunes, and the San Luis Valley.
Whether you want to take the family on a horseback ride alongside spectacular mountains or go on an adventure by yourself to reconnect with nature, you'll find the perfect place in our list of Colorado's best horseback riding locations. Don't forget to bring your helmet, riding boots, and any riding accessories you may need, such as a support bracefor your back. What are you waiting for? Get out there on the trails and enjoy the best of Colorado's wilderness on horseback.