Image
Drought Conditions Continue Expanding in SE Colorado
Warm and dry early spring conditions continued to expand the area impacted by drought in southeast Colorado over the past week.
All of Baca and Prowers Counties are now in moderate drought. Kiowa and Bent Counties had smaller areas in drought last week, which has expanded to cover most of Kiowa and essentially all of Bent.
Drought continued to expand in Las Animas County, and now also impacts eastern Otero County.
With recent moisture in western Colorado, the abnormally dry area in extreme northwest Colorado affecting Moffat and Routt Counties has dissipated.
Image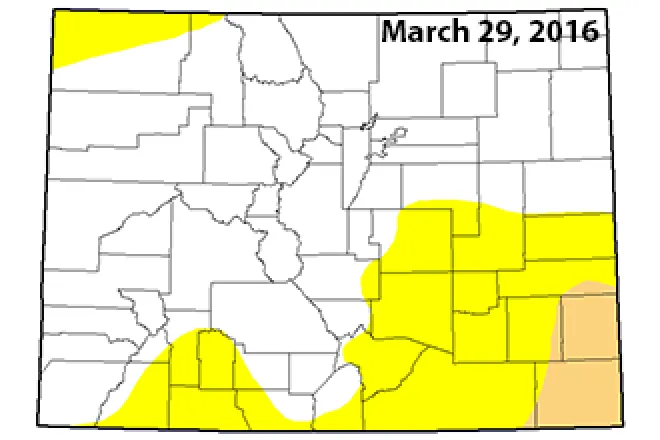 Abnormally dry areas across southern and southeastern Colorado remained unchanged, impacting Kit Carson, Lincoln, Elbert, El Paso, Crowley, Pueblo, Fremont, Huerfano, Costilla, Conejos, Archuleta, La Plata, Mineral, Hinsdale and San Juan Counties.
Some relief may be in the forecast as a series of low pressure systems move east from the Pacific into the area. The best chance of widespread precipitation occurs Sunday night.
Three addition systems will cross the area over the coming week. Although it is too early to be certain, the final system coming into the area late in the week may also bring widespread moisture to the area. However, there is some indication it will track further north into Wyoming, leaving dry conditions in place.