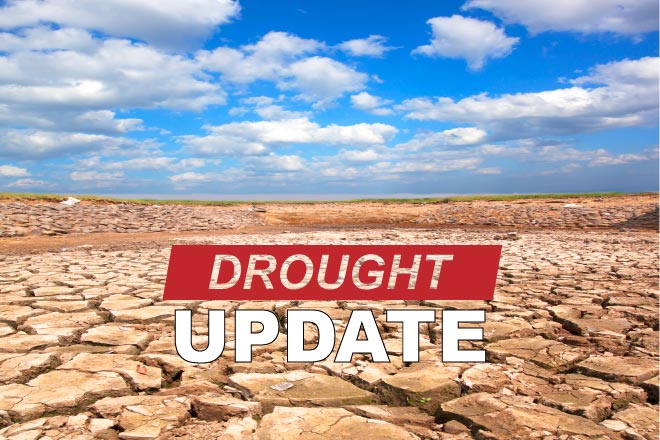 Published
Monday, April 19, 2021
While much of Colorado has seen drought improvement since the start of the water year on October 1, 2020, extreme and exception conditions still cover much of western Colorado. Large portions of the rest of the state are experiencing severe and moderate drought conditions.
According to the latest report from the National Drought Mitigation Center, drought in Colorado was unchanged from the previous two weeks. Only minimal changes were noted three weeks ago when some improvements were recorded in the San Luis Valley, and a narrow strip in the southwest corner of the state that moved from exceptional to extreme drought.
In mid-March, a series of storms brought drought improvements for parts of Colorado, though little additional moisture has been received since that time.
Current snow water equivalent is well below normal for most Colorado river drainage basins. The South Platte basin in northeast Colorado, at 92 percent of normal, is the best in the state, while the San Miguel, Dolores, Animas and San Juan basin in the state's southwest corner has fallen to 61 percent. The adjacent Gunnison basin fairs little better at 64 percent. Remaining basins range from 70 to 84 percent.
Statewide, the snow water equivalent - the measure of available water in the snow as it melts - stood at 73 percent of the median as of April 14, down from 79 percent April 9.
The USDA National Agricultural Statistics Service noted concerns about reduced irrigation water supplies this season in northeast Colorado, while some producers in the San Luis Valley began irrigating last week. One report in the Valley expressed a possibility that fewer barley acres are being planted due to water supply concerns.
Overall, eight percent of Colorado is abnormally dry. Moderate drought covers 31 percent of the state, while severe conditions account for an additional 30 percent. Extreme drought is present in 17 percent of Colorado, with 15 percent in exceptional conditions. Total does not equal 100 due to rounding.
Just over 4.6 million people in Colorado are in drought-impacted areas
One year ago, 33 percent of the state was drought-free, with an additional 14 percent experiencing abnormally dry conditions. Moderate drought was impacting 40 percent of the state, with 13 percent in severe drought.
Early in the summer of 2019, the state was in an eight-week span of drought-free conditions - the first time Colorado had been clear from all levels of drought and abnormally dry conditions since records became available starting in 2000. In late May of that year, the state's snow water equivalent stood at 437 percent of normal following a series of storms that brought abundant moisture across Colorado's river basins. As much as 77 percent of the state has fallen into the extreme and exceptional categories within the past year.
Drought classes include (ranked from least to most severe) D0 - abnormally dry, D1 - moderate, D2 - severe, D3 - extreme, and D4 - exceptional drought.
Colorado Drought by the Numbers

Week

Date

None

D0

D1

D2

D3

D4

Current

4/13/21

0

8

31

30

17

15

Last Week

4/6/21

0

8

31

30

17

15

3 Months Ago

1/12/21

0

0

9

17

46

28

Start of Calendar Year

12/29/20

0

0

6

18

49

28

Start of Water Year

9/29/20

0

1

10

36

50

3

One Year Ago

4/14/20

33

14

40

13

0

0