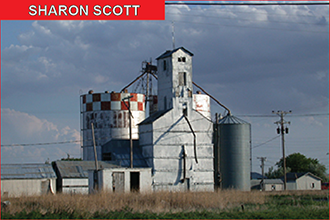 Published
Tuesday, November 14, 2017
Connie Weber was here for a few days last week visiting her parents, Denis and Theresa Weber. Denis and Theresa attended the funeral for Sharon Frazee in Eads on Saturday.
Jim and Michelle Gibson visited their Aunt and Uncle, Jim and MaryAnn Richardson last Saturday in Sheridan Lake. They spent the night and returned to their home on Sunday. Jim and MaryAnn and Eugene and Judy Splitter went to Sharon Springs Sunday, after church for lunch.
David, Dennill and Ella Splitter traveled to McPherson, Kansas, Saturday, where Ella participated in a gymnastics competition.
I went to Lamar on Saturday to attend the craft fair at the college. There was lots of good stuff to choose from. While there, I saw several friends I hadn't seen for some time and really enjoyed the visit.
A large crowd, including Merle and Carol Shalberg; Ron and Lori Healy; Denis and Theresa Weber and Dick and I attended the Veterans supper and program at the Community Building in Eads Saturday evening. It was a very nice tribute to our veterans and the meal was delicious.
The Stum clan gathered at the home of Linly and Sherell Stum Saturday evening to celebrate the birthdays of Linda and Monte Stum; Lane and Tammy Stum and Jack and Mary Light. Happy Birthday to all and hope you have many more.
Sunday, Matt and Connie Moser hosted a birthday party at their home in honor of their grandchildren, Alden who turned 7 and Karigen who was 4. Guests were: Linly and Sherell Stum; Misty Harkness and children Elijah, Ky and Anna; Linda and Monte Stum; Chris and Kami Janes and children; Kirbi Stum; Jason and Alex Specht and children; Shay Stum and children and Kayden Moser. Happy Birthday Alden and Karigen.
Saturday evening, Susan Greenfield attended a 4th birthday party for Ryker Moritz in Tribune, Kansas. Happy Birthday Ryker!
Congratulations to the Kit Carson Lady Wildcats on their winning the State Volleyball Tournament in Denver over the weekend. They had an undefeated season for the year. My niece, Gina Dechant helps coach the team. Quite an honor and accomplishment for one of our small area schools.
The Holly football team won their quarter-final game on Saturday and will host Sedgwick this Saturday at Holly for the semi-final game. Congratulations to this team and their coaches. Best of Luck on winning and getting to the Championship game the following week.
Got your turkey yet? It's sneaking up on us, can't believe next week is Thanksgiving already.
Don't forget to turn your Campbell Soup labels into Susan Greenfield no later than December 19.
We finally got started putting up our outdoor Christmas lights this past weekend. Hope the weather holds so we can hopefully have everything ready to go right after Thanksgiving. Have a great week!!