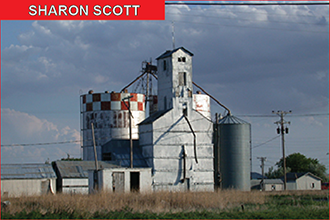 Published
Monday, April 23, 2018
Wasn't the moisture great? Some people to the north and west of Towner got about double what we got, but at least it's a start. Maybe it will remember how to rain quicker the next time around. Anyway, thank you Lord for the much-needed moisture!
I met Cora Coffman in Sheridan Lake Thursday to have lunch at the Hawk's Nest. Lots of good visiting and the food was very good.
Last week, Monte and Linda Stum took care of a couple of their daughter Kami's girls for a few days. Another granddaughter, Kirbi's daughter Rozzalan spent some time with them also. Linda took the girls home on Wednesday.
Carol Shalberg went to Lakin, Kansas, Thursday to watch her grandson Dawsen play baseball. She met her son Steve Monday and they traveled to Goodland, Kansas, to watch Dawsen play ball. Carol traveled to Oakley, Kansas, Sunday to attend the wedding shower for her grandson Dylan's fiancee, Bailey Hennert.
The Sheridan Lake Bible Church is having a new Bible study, "The Armor of God," on Fridays at 9:00 a.m. at the parsonage. It will last seven weeks and started last Friday. All ladies are invited to come.
The Plainview Community Club's Spring Fling Craft Fair at Plainview school Saturday was well attended.
If you ever have the opportunity to see the play "Haphazardly Ever After" you should do so. Plainview students, teachers and community members put on the play Saturday evening at the Plainview School. Prior to the play, a delicious dinner was served to the large crowd in attendance. Hats off to everyone who helped make it a memorable evening.
The Towner Methodist Church hosted dinner Sunday in honor of the Plainview Senior Class. Alyssa Splitter was the speaker.
The 4-12 Youth Group attended the movie, "Paul, the Apostle" in Eads Sunday evening.
Upcoming events at Plainview: April 25 - Farm Safety Day at Cheyenne Wells; April 28 H.S. Track at Springfield; May 2 Preschool last day - Graduation program at 10a.m.; May 3 K-5 track day at Cheyenne Wells; May 4 J.H. track at Cheyenne Wells; May 5 H.S. Tri-League track meet at Holly. Doesn't seem possible that we only have less than a month left of the school year.
Have a great week!