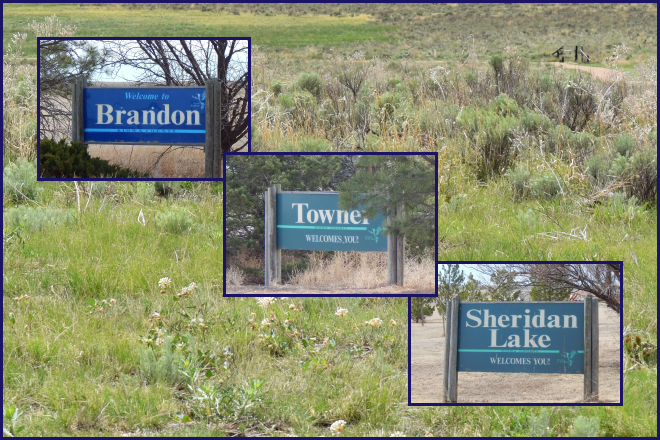 Published
Tuesday, October 30, 2018
Our communities extend their condolences to the family of Lori Shalberg, who passed away a week ago Sunday. A huge crowd of family, friends and co-workers attended Lori's funeral last Friday at the Plainview School. Lori was well known by many -- she never knew a stranger and thoroughly enjoyed visiting. She will sadly be missed by all who knew her -- but never forgotten.
Condolences to Jennifer Hopkins and family as her grandmother passed away last week. Her services were held October 24 in Woodston, Kansas. Evan and Jen Hopkins and family and Cheri Hopkins of Towner and Christy Hopkins and Jo Lobmeyer of Tribune attended the funeral services.
Congratulations to Mikayla Schmidt and Joseph Perales on their wedding at the Sheridan Lake Bible Church last Saturday. A large crowd attended the wedding and buffet/reception that followed at the K A Hall in Sheridan Lake. The newlyweds will be making their home in Lincoln, Nebraska.
Susan Greenfield's dad, Norm, came to spend the weekend with her. They took in the football game in Holly Friday evening.
Chris and Kami Janes and family spent the weekend with her parents, Monte and Linda Stum.
Lots of family and close friends attended the baby shower for Shaneise Stum which was held at the Towner Community Hall Saturday afternoon. The event was hosted by Connie Moser.
Denis and Theresa Weber's daughters, Linda Cochran, Connie Weber and Kathy Knutson of Denver came for the weekend to visit their folks and attend Lori's funeral.
Guests of Burl and Cathy Scherler this past week were Janet Palmer of Texas and Larry and Barb Gitchel of Gill, Colorado.
My sister, Jerene, and I met our girl cousins (on my mom's side of the family) from Topeka, Emporia and Hutchinson, Kansas, in Dodge City for a girls' weekend. We had lots of fun playing cards, just visiting and doing a little gambling on the side. Well, you know, you can't be in Dodge and not gamble a little!! Sunday, we met up with Clint Scott, who lives in Dodge City (Steve and Kay Scott's son) and had a nice visit before returning home.
I would like to thank everyone for their kindness shown our family when we lost our Mom. The food, flowers, donations and other acts of kindness were truly appreciated.
Have a great week and a safe Halloween!!