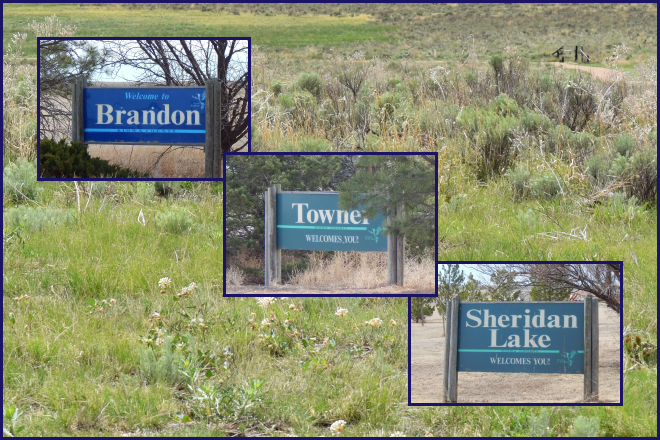 Published
Tuesday, July 30, 2019
Our communities would like to extend their condolences to Don Kershner on the loss of his sister, Janet, this past week. Janet grew up in the Sheridan Lake area and graduated from there.
Weekend before last, Merle, Carol and Dawsen Shalberg attended a family reunion in Walsh. Around 120 family members from Illinois, Nebraska, Arkansas, Kansas and Colorado were in attendance. Merle and Dawsen returned to Sheridan Lake Sunday evening, and Carol stayed over to do more visiting with her brothers Monday.
MaryAnn Richardson called me this week and said they were getting along well and to tell everyone hello for them. She was wanting an address or phone number for Cathy Coffey. Cathy fell and broke her hip several months ago and is now in an assisted living unit in Canon City.
My brother, Doug's, oldest daughter, Shelly Minks and family, came Tuesday to Towner to visit family. Shelly and her husband, Mick, and their three children and two grandkids live in Illinois. They were on their way to Bayfield to visit with Shelly's mom, Diane, and family. My brothers, Larry and Mike, and our son, Tom, joined us for lunch and visiting.
Connie Weber and Kathy Knutson are here to visit with their parents, Denis and Theresa Weber, and their brother, Jerry, for a few days.
Merle and Carol Shalberg took in the Maine Street Bash Saturday evening. A large crowd attended the event, and everyone had a good time.
Cora Coffman and I went to Lamar Thursday to have lunch and do some shopping. I was in need of a new phone since our dog, Roxie, decided to have my phone for a snack. Needless to say, I was pretty upset with her because I had only had this phone for a couple of weeks.
Monty and Linda Stum went to Rocky Ford over the weekend to help two of their grandchildren celebrate their birthdays. Happy Birthday kids!
The Plainview senior class will be selling Palisade peaches again this year. The #1 will be $29.50 and #2 is $21.00 - there is around 40 peaches to a box. Please contact Sharon Scott to place your order before August 20 at. 719-727-4663 or 719-691-5042.