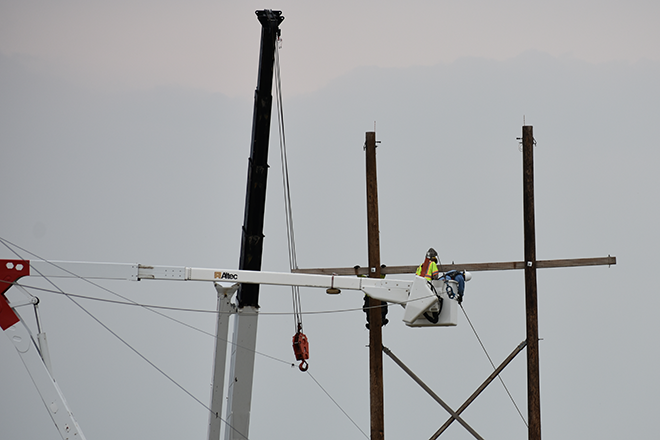 Published
Friday, March 5, 2021
(The Center Square) - The Board of Directors of the Electric Reliability Council of Texas, ERCOT, which manages Texas' grid, fired its CEO, Bill Magness, after millions of people were left without power for nearly a week during February's winter storm.
ERCOT's board sent out a brief statement via email Wednesday night stating, "The ERCOT Board of Directors met this evening and directed the Corporate Secretary to exercise the 60 days' termination notice to ERCOT President and CEO Bill Magness pursuant to the employment agreement with ERCOT.
"During this transition period, Bill will continue to serve as President and CEO and work with state leaders and regulators on potential reforms to ERCOT. The ERCOT Board is expected to begin an immediate search for a new President and CEO and will continue to discuss the transition plan at future meetings during this time period."
Former State Rep. Rob Orr, ERCOT's lobbyist, also published the announcement on social media, saying ERCOT had begun an immediate search for a new president and CEO.
Magness' dismissal came exactly one week after he was called to testify before the state legislature about Texas' massive and extensive power outages and after out-of-state board members, including the chairman and vice chairman, resigned.
ERCOT operates under the oversight of the state legislature and the gubernatorially appointed Public Utility Commission.
Monday, Lt. Gov. Dan Patrick called for both PUC chair DeAnn Walker and Magness to resign. Within a few hours, Walker resigned. Magness had to be forced out by the board.
"After almost 24 hours of testimony in the Senate Business and Commerce Committee's investigation of the power outages, including nine hours from the chair and the CEO, it is clear neither of them adequately addressed the challenges of this huge winter storm," Patrick said.
"Our state senators repeatedly asked for their analysis and suggestions regarding what could have been done differently and what needs to be done going forward to prevent a similar problem in the future. The chair and CEO offered few ideas. Frankly, I was shocked by their failure to respond."
After being grilled by legislators last week, Magness avoided taking any blame and said ERCOT's actions helped avoid a catastrophic failure of the grid. ERCOT has no regulatory authority to enforce whether power companies winterize. That is the legislature's job, he has argued.
In a news release stating her resignation, Walker said, "I believe others should come forward in dignity and courage and acknowledge how their actions or inactions contributed to the situation. The gas companies, the Railroad Commission, the electric generators, the transmission and distribution utilities, the electric cooperatives, the municipally owned utilities, the Electric Reliability Council of Texas, and finally the Legislature all had responsibility to foresee what could have happened and failed to take necessary steps for the past ten years to address issues that each one of them could have addressed."
Reforming ERCOT and requiring power companies to winterize are top legislative priorities Gov. Greg Abbott said he has for this session, and he has pledged to work with the legislature to resolve the problems with Texas' power failures.