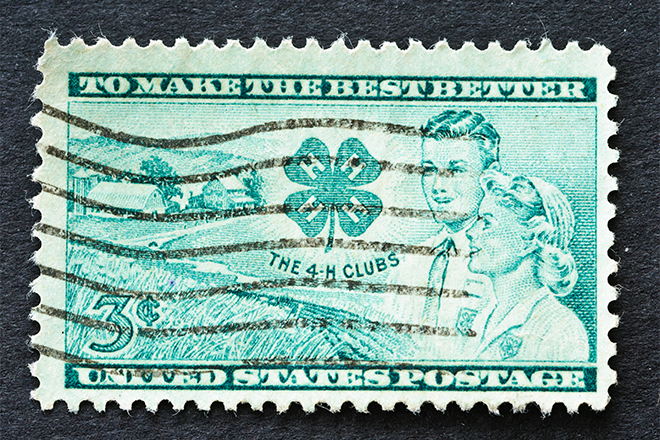 Published
Tuesday, September 3, 2019
Hello, it's your Kiowa County Agent again, ready to update everyone on the busy month of August.
As I reported last, the 4-H projects were dropped off at the Colorado State Fairgrounds and judged.
August 24, I visited the State Fair and the three very full exhibit halls. It took a lot of hunting to find Kiowa County's 44 projects mixed with all the others from around the state. Our members did very well with all their exhibits.
It has been a long time since I have attended the State Fair ,and I am happy to report that the project exhibit numbers are holding strong. We have also had members in competitions. Reagen Johnson was in her last State 4-H Fashion Review August 17. She had a great time, but didn't make the top 15. The following Sunday, she moved into her dorm at Otero Junior College. Good luck at college, Reagan.
Kiowa County Shooting Sports members have, and will be, competing at the state level. Alexa and Clayton Nelson competed in the Archery Contest. Clayton placed 46thof 58 in the Junior Recurve, and Alexa Placed 59thof 62 in the Junior Compound contest.
August 25 was the State cake decorating competition. Kiowa county had two representatives. Hailee Trosper received a Blue award in Unit 2 as a Junior, and Katherine Trosper received a Blue award and Champion in Unit 8 as an Intermediate.
Labor Day weekend closed the Colorado State Fair. We would like to wish the best of luck to Hatch Nelson, Will Crow, and Clayton Nelson who are competing in Shotgun, and Emily Nelson in the .22 Pistol division.
I will also make one more trip to the State Fairgrounds to pick up projects that will be exhibited here at the Kiowa County Fair September 11-15. This will be a very busy time for the next few weeks. I would like to invite everyone to come out and support Kiowa County's hard-working youth in all the livestock shows and the 4-H concession stand.
Don't forget all the great events that the Kiowa County Fair Board will be bringing to town. I hope to see you all at the Fair.
Kiowa County 4-H 2019 State Fair Results
Horseless Horse Unit 2:
Junior:MiaCrow: ReserveChampion
Intermediate:KatherineTrosper: 4th
Gardening: Unit 2 See them Sprout
Ceramics: Unit 1 Glazes
Leathercraft: Intro to Leathercraft
Junior:LandonZimmerman:Qualifier
Leathercraft: Leather Carving
Leathercraft: Advanced Leather Carving
Senior:MorgynJohnson:10th
Leathercraft: Pictorial Carving
Intermediate:AlexaNelson:5th
Leathercraft: Creative Stamping
Senior:ChaseStolzenberger:5th
Woodworking: Nailing It Together
Woodworking: Finishing Up
Intermediate:CaseNelson:8th
Senior:HatchNelson:7th
Artistic Clothing: Upcycle Your Style
Junior:ItziRamirez:Qualifier
Intermediate:ZoieArnold-Kraft:7th
Artistic Clothing: Creative Sewing Unit 5
Junior:MiaCrow: 4th
Intermediate:AlexaNelson: Reserve Champion
Senior:MollyStolzenberger: 3rd
Cake Decorating: Unit 1
Junior:ItziRamirez:Qualifier
Cake Decorating: Unit 2
Junior:AddisonCourkamp:Qualifier
Cake Decorating: Unit 8
Intermediate:KatherineTrosper:Qualifier
Clothing Construction: STEAM 1
Junior:PeytonEder: ReserveChampion
Clothing Construction: STEAM 2
Junior: Clayton Nelson: 3rd(Clothing Top)
Intermediate: Alexa Nelson: 3rd(Clothing Skirt)
Junior: Aspen Nelson: Qualifier (Dress)
Clothing Construction: Recycled Clothing
Food Preservation: Freezing and Drying
Intermediate:AlexaNelson: 3rd
Food Preservation: Canning
Intermediate:AlexaNelson: Qualifier
Senior:EmilyNelson:10th
Food & Nutrition: Cooking 201
Junior:AspenNelson: 9th(Muffins)
Food & Nutrition: Unit 25
Junior: Clayton Nelson: Reserve Champ & Grand Reserve Champion
Heritage Arts: Crochet
Intermediate:KaraWilson: Qualifier
Senior:EmilyNelson:10th
Heritage Arts: Fiber Arts
Senior:EmilyNelson: 5th(NeedleArts)
Heritage Arts: Quilting
Junior: Clayton Nelson: 5th(Unit 2)
Intermediate:AlexaNelson: Champion (Unit 4)
Senior: Molly Stolzenberger: ReserveChampion
Electric: Magic of Electricity
Junior:Kindel Hoffman:7th
Model Rocketry
Junior: Aspen Nelson: 4th(Intro to Rocketry)
Intermediate:CaseNelson: Champion (Intermediate Rocketry)
Small Engines: Warm it up
Shooting Sports: Stand Alone Projects Archery:
Junior:LandonZimmerman: Qualifier
Intermediate:AlexaNelson:Qualifier
Shotgun:
.22 Rifle: