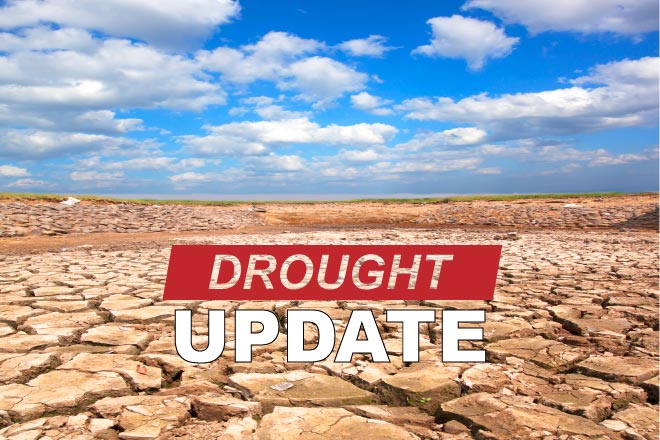 Published
Saturday, September 12, 2020
Extreme drought grew to cover more than half of Colorado according to the latest report from the National Drought Mitigation Center.
In northwest and north central Colorado, extreme conditions expanded to cover all or portions of Rio Blanco, Moffat, Routt, Jackson, Larimer and Grand counties. Along the Front Range, Clear Creek, Gilpin, Boulder, Jefferson, Adams, Denver, Arapahoe and Douglas counties also saw severe conditions shift to extreme drought.
A similar shift was also noted for all or portions of Gunnison, Lake, Park, and Chaffee counties in the central part of the state, as well as Saguache, Mineral, and Rio Grande counties in south central Colorado.
Moderate drought in Moffat and Routt counties was replaced with severe conditions.
In the southeast, drought improvement was noted for small portions of Otero, Bent, Prowers, Las Animas and Baca counties, where severe drought was replaced with moderate conditions, thanks to a brief but dramatic change to cold and wet conditions early in the week.
Ongoing dry conditions continue to impact agricultural producers in the state. In northeast counties, non-irrigated crops are failing due to drought, while livestock producers are culling herds and using emergency CRP grazing options according to the USDA.
Thursday, the National Weather Service Climate Prediction Center issued a La Nina advisory, stating La Nina conditions are present, with a 75 percent chance of continuing through the winter as Pacific Ocean surface temperatures remain below average.
The Colorado Climate Center at Colorado State University notes that the state's eastern plains are more likely to see above average temperatures during La Nina winters, though there are no guarantees.
Lower than average snowfall is also possible.
Drought in Colorado is expected to persist through the remainder of September. Remaining areas of abnormally dry conditions in Weld and Yuma counties are forecast to move into at least moderate drought.
Temperatures across the western half of the nation are predicted to remain above normal through November.
Overall, abnormally dry conditions and moderate drought remained steady from the previous week at one and seven percent, respectively. Severe drought dropped from 55 to 37 percent, offset by the increase from 36 to 54 percent in extreme conditions. A pocket of exceptional drought - the worst category - that developed two weeks ago remains in central Kiowa County, representing less than one percent of the state's area.
Just under five million people live in drought-impacted areas of Colorado.
One year ago, 50 percent of the state was drought-free, while an additional 43 percent was abnormally dry. Seven percent of Colorado was in moderate drought conditions.
Early in the summer of 2019, the state was in an eight-week span of drought-free conditions - the first time Colorado had been clear from all levels of drought and abnormally dry conditions since records became available starting in 2000.
Drought classes include (ranked from least to most severe) D0 - abnormally dry, D1 - moderate, D2 - severe, D3 - extreme, and D4 - exceptional drought.
Colorado Drought by the Numbers

Week

Date

None

D0

D1

D2

D3

D4

Current

9/8/20

0

1

7

37

54

0

Last Week

9/1/20

0

1

7

55

36

0

3 Months Ago

6/9/20

23

13

14

24

25

0

Start of Calendar Year

12/31/19

32

17

31

20

0

0

Start of Water Year

10/1/19

30

42

28

0

0

0

One Year Ago

9/10/19

50

43

7

0

0

0