Image
Heavy rain, hail, flooding expected Thursday in southeast Colorado
The National Weather Service has issued a flood watch for 13 eastern Colorado counties which will be in effect Thursday afternoon.
Thunderstorms are expected to develop by mid-afternoon, bringing 1 to 3 inches of rain to the area. Some locations could receive higher amounts.
Intense, widespread storms are predicted to continue into the evening hours, and may produce golf ball to baseball-size hail, along with wind gusts up to 75 miles per hour, tornadoes, and flash flooding.
Image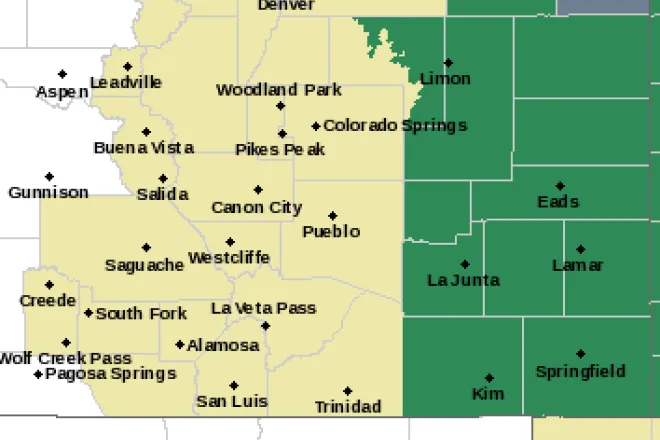 Storms will begin to develop as early as 1:00 p.m. along the southern Interstate 25 corridor and continue through 6:00 p.m. Further east, storms can be expected between 3:00 p.m. and midnight, and will produce the best chances for flooding. 
At 6:00 a.m. Thursday, radar showed a line of thunderstorms heading east from just north of Colorado Springs to slightly east of Denver International Airport on a path across Elbert County.
Image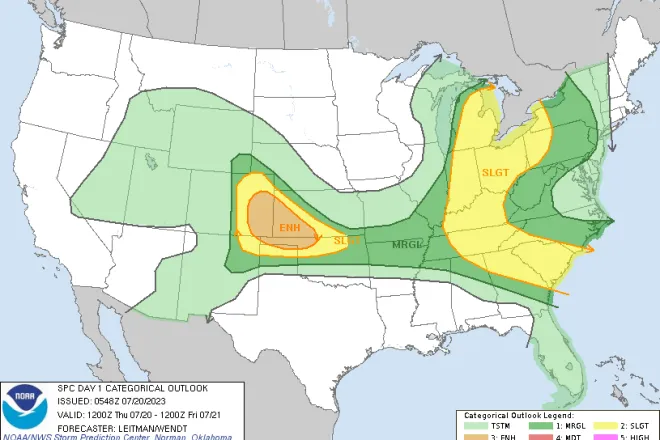 The NWS Storm Prediction Center in Norman, Oklahoma, has posted an alert for enhanced risk of thunderstorms in southeast Colorado, a level not frequently seen in the area. The NWS has high confidence that storms will produce damaging winds, severe hail, and/or tornadoes.
All or portions of Baca, Las Animas, Prowers, Bent, Otero, Crowley, Kiowa, Cheyenne, Lincoln, Elbert, Kit Carson, Washington, and Yuma counties are included in Thursday's flood watch.
Image