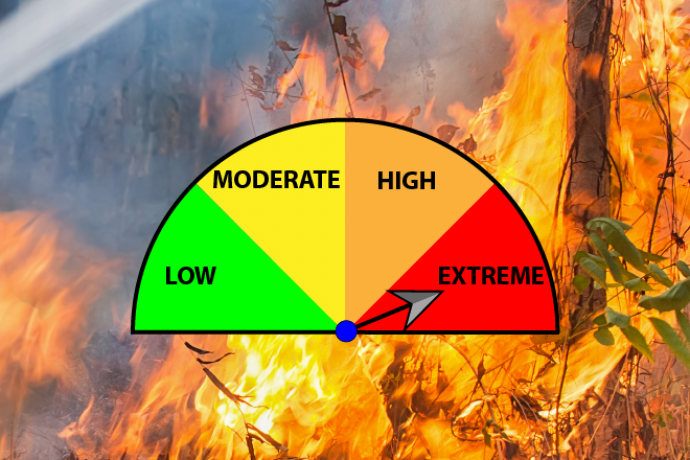 Published
Wednesday, February 13, 2019
With more than a month to go before the arrival of spring, parts of Colorado are already seeing warm, dry conditions leading to high fire risk.
The National Weather Service has issued a red flag warning that is expected to run from noon through 6:00 p.m. Wednesday. Winds out of the southwest may gust up to 50 miles per hour as relative humidity falls below 10 percent.
Combined with temperatures in the mid- to upper 60s, the risk of rapidly-spreading fires impacts all of Kit Carson, Cheyenne, Kiowa, Prowers, Baca, Bent, Crowley, and Otero counties. Most of Las Animas, Pueblo, Fremont and El Paso counties are also covered by the warning, along with smaller portions of Huerfano, Lincoln and Elbert counties.
Much of the warned area is also impacted by abnormally dry or drought conditions.
Red flag warnings will be in effect in neighboring states, including southwest Kansas, the Oklahoma panhandle, northern Texas, and northeast New Mexico.
The NWS has also issued a high wind warning for all of Custer and Huerfano counties, along with the western half of Las Animas County. Smaller portions of eastern Saguache, Alamosa and Costilla counties also face the high wind warning. Overnight, a wind gust approaching 50 mph was recorded near Monarch Pass, while the Pikes Peak summit saw a gust of 83 mph.
The high wind warning is expected to be in place from noon until 11:00 p.m. A similar warning will be in place for northern Colorado along Front Range communities.
Much of western Colorado will see winter weather advisories and winter storm warnings starting later Wednesday, continuing into the early morning hours Friday. Those alerts are for winds that could gust to the 40-50 mph range, accompanied by periods of snow. Six to 18 inches of new snow is possible in mountain areas, with some peaks seeing up to two feet. Southwest valleys could see a mix of rain and snow.
According to the NWS, a Red Flag Warning means that critical fire weather conditions are either occurring now or will shortly. A combination of strong winds, low relative humidity, and warm temperatures can contribute to extreme fire behavior.
Open burning and any activity that could spark a fire is strongly discourage. Be prepared to evacuate quickly if a fire starts in your area.