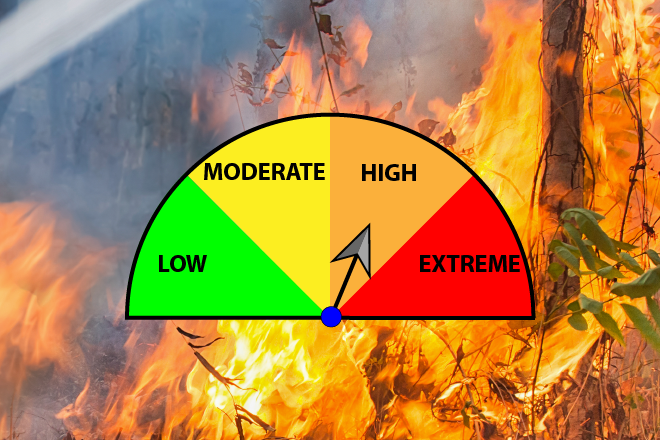 Published
Friday, October 9, 2020
While summer ended weeks ago, fire danger remains high this weekend across drought-stricken western states, including Colorado.
A red flag warning is in place for eastern plains counties Saturday from noon to 8:00 p.m. Temperatures in the low to mid-80s are forecast, along with relative humidity falling to near 10 percent. Wind gusts out of the south up to 35 miles per hour are also predicted according to the National Weather Service.
In northwest Colorado, most of Moffat and Rio Blanco counties will also be under a red flag warning Saturday from 1:00 to 8:00 p.m. Highs in the upper 70 are expected, along with southwest wind gusting to 40 mph.
Sunday, a fire weather watch is in place for all of the eastern plains to the eastern foothills and mountains along with the San Luis Valley. Temperatures are predicted to return to the 80s on the plains, and 70s in the valley. Southwest wind gusts from 35 to 50 mph are also expected, while relative humidity again falls to near 10 percent.
The weekend fire risk is particularly concerning as Colorado falls further into extreme and exceptional drought. Nearly 60 percent of the state is in the two worst categories. With the most recent update from the National Drought Mitigation Center, 17 percent of the state, mainly in western Colorado, is now in exceptional drought, up from three percent during the previous week.
The National Weather Service is cautioning that any activity that could spark a fire should be avoided. Any fires that do start could spread rapidly.