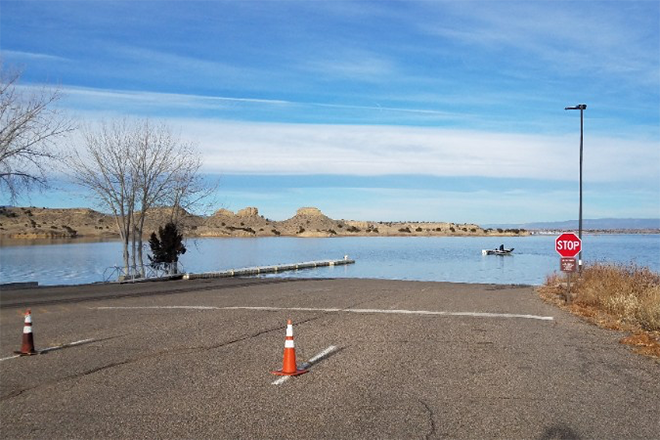 Published
Friday, February 9, 2018
Due to high water levels being maintained in Lake Pueblo by the U.S. Bureau of Reclamation, the staff of Lake Pueblo State Park has been forced to indefinitely close the South Marina boat ramp.
This means any boater wanting to enter or exit the lake must use the park's north boat ramp. The concentration of boat traffic could cause minor delays on weekends.
"The lake water levels are about eight feet higher than last year at this time," said Brian Kerrigan, the park's operations manager.
The ramp closing is not the only impact of the unusually high water. Already, park staff was forced to close access to South Fishing, North Picnic and N-1 Day-Use Areas.
In addition, the park may be forced soon to close access to the sailboard day-use area if the rising water levels cover the asphalt.
Park officials are hopeful the situation will improve after March 15 when the Bureau of Reclamation starts releasing winter water storage. In fact, a noticeable draw-down will occur in early April.
Lake Pueblo State Park officials expect access to the South Marina boat ramp will resume in early to mid-April.
Colorado Parks and Wildlife manages Lake Pueblo State Park on property owned by the Bureau of Reclamation. The bureau built Lake Pueblo in 1970-75 as part of the Fryingpan-Arkansas water diversion, storage and delivery project. It provides West Slope water to upwards of 1 million Front Range residents, primarily in southeastern Colorado, as well as agricultural irrigation.
Photos courtesy CPW.