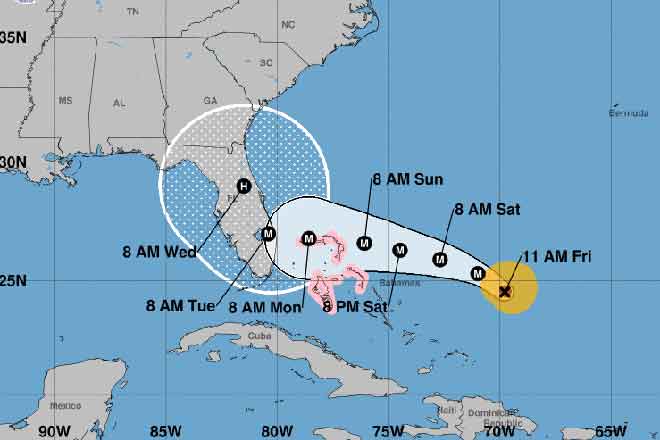 Published
Friday, August 30, 2019
By John Haughey | The Center Square
President Donald Trump called it "an absolute monster" comparable to 1992's Hurricane Andrew. Others say its relatively compact and "terribly beautiful" eye wall resembles Hurricane Charley's fist of fury in 2004.
But as Hurricane Dorian churned into open water northeast of the Bahamas Friday morning on a projected beeline for Florida's Atlantic coast, many were making comparisons with the 1935 Labor Day hurricane, perhaps the most savage in state history.
The storm - tropical systems were not accorded names until 1953 - ripped across the Keys before making landfall near Cedar Key on the Gulf Coast on Sept. 2.
It remains the most intense Atlantic hurricane to make landfall in terms of both pressure and wind speed, according to the American Meteorological Society, and the first known Category 5 storm on record to strike the contiguous United States.
The Labor Day hurricane killed 408 people and was one of the 10 deadliest storms in U.S. history, exceeded in intensity in Florida landfalls only by last October's Hurricane Michael and Andrew in 1992.
Whether Dorian will resemble the 1935 hurricane beyond making a projected landfall also on Labor Day or perhaps early Tuesday, or any other storm from the state's gallery of catastrophic cyclones, was all speculation Thursday.
As of 7 a.m. Friday, the National Hurricane Center reported Dorian was a Category 2 storm with 105 mph winds about 295 miles northeast of the Bahamas.
The center's forecast for Florida was dire: Dorian is projected to explode as it churns into open waters into a Category 4 storm with winds of 130 mph, a "king tide" storm surge and 5-to-15 inches of rain.
It is tentatively plotted to make landfall Monday near Melbourne, although a 500-mile stretch along the Atlantic coast from the Florida Keys to southern Georgia remains in the "cone of uncertainty."
"Starting tomorrow, it really has no obstacles left in its way," University of Miami hurricane researcher Brian McNoldy told the Associated Press Thursday. "If it makes landfall as a Category 3 or 4 hurricane, that's a big deal. A lot of people are going to be affected. A lot of insurance claims."
Gov. Ron DeSantis expanded his 26-county emergency declaration to the entire state Thursday, reiterating his call for every Floridian to have "seven days of supplies, including food, water and medicine" stored.
He had not issued any evacuation orders or suspended tolls on the state's turnpikes, something House Democratic Leader Rep. Kionne McGhee, D-Cutler Bay, urged him to do.
"Suspending tolls would aid residents and visitors in obtaining supplies or quickly and efficiently evacuating, if required," McGhee said in a statement.
After issuing his declaration Wednesday, DeSantis said his emergency team has been monitoring the storm all week and meeting with the State Emergency Response Team and local officials. "We're going to be very active," he told reporters in Jacksonville.
Division of Emergency Management Director Jared Moskowitz has "contracts ready to go" to rush emergency assistance into the state if necessary, DeSantis said.
"We're going to be in a position to maybe pre-position assets, if need be, that have not been done before," he said, noting pre-positioning will provide the ability to "more quickly administer whatever type of relief" is needed.
The state's Emergency Operations Center, activated Thursday afternoon, is "battle-tested" as it braces for the fifth hurricane to make landfall in the last four years in Florida, DeSantis said.
Florida Power & Light, the state's largest electric utility with 10 million customers and more than 48,000 miles of powerlines, said it has about 13,000 employees and additional workers from out-of-state either to restore power and repair damaged equipment either on hand or en route.
FPL President/CEO Eric Silagy said Thursday it is arranging to have utilities nationwide send additional crews and equipment ahead of the landfall if necessary.
The Florida Chamber of Commerce Thursday activated its Hurricane Center, "a one-stop storm preparation center for families, businesses and visitors."
The Chamber's Hurricane Center "connects families, businesses and visitors with key information to help ensure everyone is protected," Chamber Vice President for Public Affairs Edie Ousley. "Simply visit the Hurricane Center website to stay up-to-date on the storm and to connect with local and state partners."
The Florida Health Care Association [FHCA] Thursday announced it was activating its emergency procedure plan to ensure nursing homes and other long-term care centers are prepared for the storm.
"Our team is in constant communication with long-term care facilities in areas that could potentially be affected by the storm, and we are coordinating efforts with federal, state and local authorities as well as our transportation and utility partners," FHCA Executive Director Emmett Reed said. "Each facility has a detailed emergency management plan that outlines the steps it will take in the event of such an emergency, and centers are making preparations in accordance with these plans."