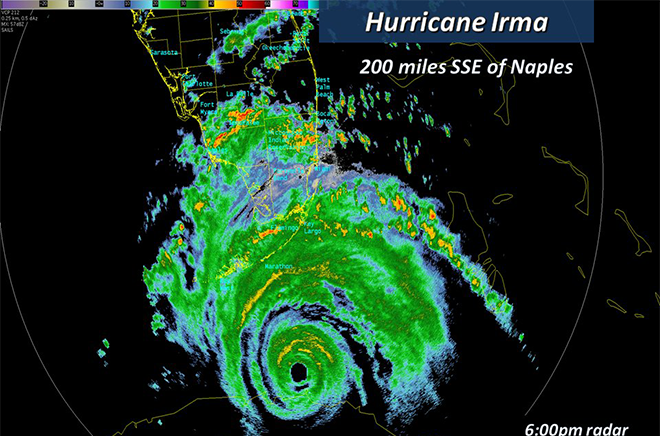 Published
Saturday, September 9, 2017
Hurricane Irma, which earlier this week battered U.S. territories Puerto Rico and the U.S. Virgin Islands, is expected to hit Florida's west coast later tonight.
Irma is currently a category 3 hurricane on the Saffir-Simpson scale, with sustained winds of 125 miles per hour, and is located along the northern coast of Cuba. As it begins to turn northward toward Florida, the storm is expected to re-strengthen. Earlier this week, the storm fluctuated between categories 4 and 5.
The storm is expected to reach the Florida Keys early Sunday morning, and continue along a path taking it up Florida's west coast as a major hurricane. Strong, dangerous winds extend 70 miles from the center of the storm, and tropical storm-force winds can reach up to 195 miles from the center.
Storm surge along the coast could be as high as 15 feet in some areas, including from Cape Sable to Captiva. Elsewhere, the surge could be four or more feet.
The Florida Keys could receive 10 to 20 inches of rain, with some areas seeing up to 25 inches. Elsewhere along the Florida coast to Georgia, 8 to 15 inches of rain is expected, with some locations receiving up to 20 inches. Eastern Georgia and portions of the Carolinas can expect 4 to 8 inches of rain.
Tornadoes are possible over night over south Florida.
Florida Governor Rick Scott has been urging resident and visitors for most of the week to heed evacuation notices issued by local authorities.
Colorado has sent nearly 50 people to Florida and Georgia over the past week to assist with the response the Irma' impacts.