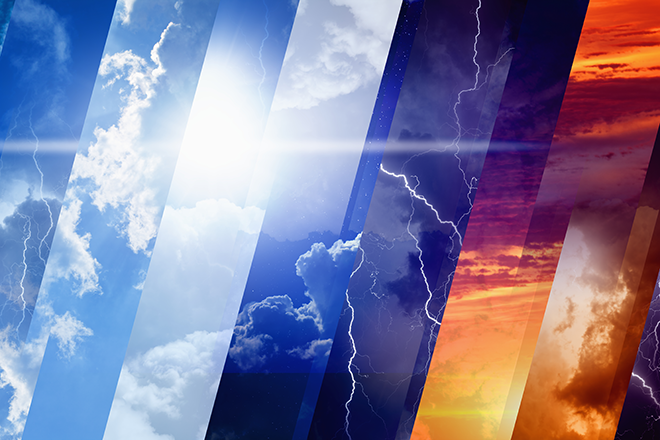 Published
Thursday, July 4, 2019
An upper level ridge over southeast Colorado will help ensure hot, dry Independence Day conditions across Kiowa County.
Sunny skies are predicted for the day. High temperatures will be in the mid-90s, with the far west portion of the county hitting the upper 90s. Overnight, low 60s are expected.
Look for wind generally out of the south in the 5-10 mile per hour range, with gusts to 15 mph around Sheridan Lake and Towner.
Slight cooling is expected Friday into the weekend, along with the potential for afternoon and evening thunderstorms. Late day storms are likely Saturday, producing between one-tenth and one-quarter inch of rain, with heavier amounts possible in some areas.
Currently, KiowaCountyPress.net Live Weather from downtown Eads shows WNW wind at 0 mph. Wednesday evening, winds were gusting to 13 mph. The current temperature is 61, with 0.00 inches of rain so far today. Yesterday, 0.00 inches of rain was recorded in Eads, with an unofficial high of 94. The strongest wind gust since midnight was 2 mph, while the high temperature for the day so far was 62 at 12:00 AM.
Elsewhere in Colorado, northwest and west central counties will be under a red flag warning for fire danger from noon until 8:00 p.m. Conditions in the area will be favorable for fires to ignite and spread quickly.
Minor flooding is also possible for north central mountain streams. A flood warning is in effect for the Arkansas River near Avondale in Pueblo County due to continued releases from Pueblo Reservoir.
Kiowa County Weather Outlook for July 4, 2019

Community

High

Low

Chance of Precip

Wind Gust

Direction

Arlington

99

62

0

10

S

Haswell

96

63

0

10

S

Eads

96

63

0

10

SE

Chivington

97

63

0

10

SW

Brandon

97

63

0

10

ESE

Sheridan Lake

96

63

0

15

ESE

Towner

96

63

0

15

ESE
Weather information updated throughout the day is available at http://weather.KiowaCountyPress.net.