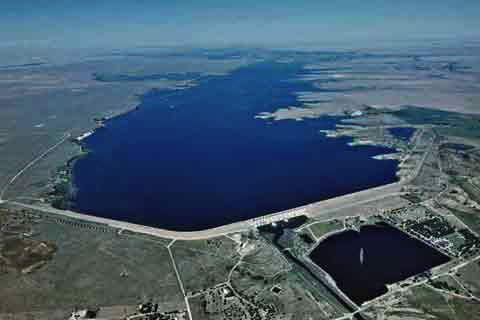 Published
Saturday, September 17, 2022
The U.S. Army Corps of Engineers, which owns John Martin Reservoir, is planning to do routine maintenance work on its dam starting September 27, with a planned completion date of October 12.
Low water levels in the reservoir make it an ideal time to inspect and maintain the upstream side of the dam, which typically is under water.
Because of the need to assemble heavy machinery at the reservoir's only access point, Colorado Parks and Wildlife will close the East Ramp at John Martin Reservoir State Park twice during the construction period, for two days each time, to move equipment and to protect the public.
The first two-day closure will be September 27-28. During those days, a large crane will arrive along with a barge and boats to push the barge along the dam.
If the project is completed on time, the east ramp will close again October 11-12, also for two full days, to allow the Corps to remove the crane, barge, and pusher boats. The completion date may change due to weather and the speed of progress on the maintenance.
The East Ramp is the only ramp available to launch or retrieve boats at John Martin due to the low water levels.
Any campers with reservations during the closure can call John Martin Reservoir State Park at 719-829-1801 with questions.