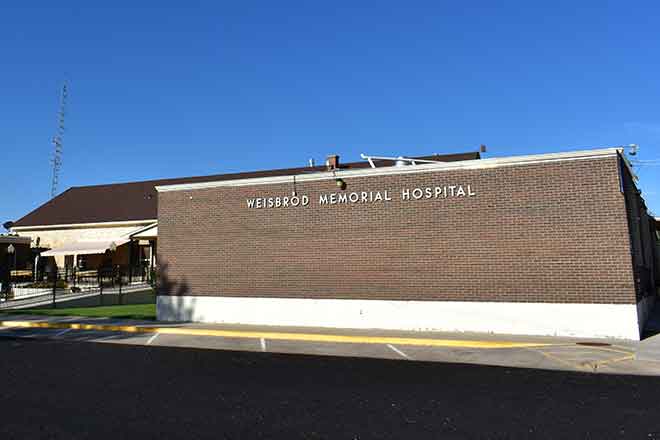 Published
Wednesday, January 22, 2020
The Kiowa County Hospital District and County Board met in regular session on October 22, 2019 at 6:30 p.m. at the Bransgrove Building Meeting Room.
District Board members present were: Mary Eikner, Sylvia Shields, Dennis Pearson, Cathryn
Anderson and Priscilla Waggoner.
County Board members present were: Kevin Davis, Ken Flory and John Negley. Absent: Craig
Kerfoot (called) and Whitney Barnett (called).
Others present: Shannon Dixon, Char Korrell, Jessica Hyman, Dawn Back and Beth Spady.
CALL TO ORDER
The meeting was called to order by Priscilla Waggoner, Chairman of the Board at 6:30 pm.
COUNTY VOTING MEMBER SELECTION
Kevin Davis, John Negley and Ken Flory.
APPROVAL OF MINUTES
A motion was made by Sylvia Shields to approve the September 24, 2019 minutes as presented after the correction of a grammatical error on page two of the minutes. Motion seconded by Mary Eikner. All aye.
APPROVAL OF AGENDA
A motion was made by Sylvia Shields to approve the agenda as presented. Motion seconded by Mary Eikner. All aye.
PUBLIC COMMENT
No one was present for public comment.
CREDENTIALING
Dr. Karin Liljestrand was reapproved for active privileges by Med Staff. Dr. Brian Steele, Dr. Shawn Corey, Dr. Jacqueline Smith and Dr. Dipti Nevrekar were reapproved for telemedicine privileges by Med Staff. Dr. Lori Thorndike was reapproved for emergency medicine active privileges by Med Staff. A motion was made by Mary Eikner to approve all credentialing as presented above and seconded by Dennis Pearson. All aye.
POLICIES & PROCEDURES
The Board reviewed and discussed the summary of revisions to several 340B, just culture, and
human resource policies. The policies for fiscal services and dietary were approved without changes. All policies were reviewed by the Policy Committee and approved by Med Staff. A motion was made by Sylvia Shields to approve all policies as presented and seconded by Cathryn Anderson. All aye.
STANDING REPORTS
CEO
The Hospital Transformation Project report has been submitted to the State. We are waiting for their response. KCHD will apply for funding to HTP around the first of the year.
One boiler has been completely replaced and work on the other should begin soon.
KCHD has contracted with Eide Bailly to complete our external 340B audit.
Board members and staff from KCHD will attend the Eastern Plains Healthcare Consortium (EPHC) meeting on November 6 in Yuma. EPHC received funding from HRSA for approximately $500,300 which will be used for technology and telehealth projects.
Officials from the Colorado Rural Health Center (CRHC) will recognize KCHD on Thursday,
November 21 as part of National Rural Health Day. KCHD was selected by the CRHC for the many quality measures that have been successfully implemented over the past few years.
A nurse practitioner will visit KCHD later this week to discuss the open provider position.
Various meetings and discussions are ongoing regarding HB 19-004. The Colorado Hospital Association, members of the EPHC, and Colorado Health Care Policy & Finance (CHCPF) are
meeting to ensure small hospitals are not negatively impacted by this new legislation.
CFO
The September financials were reviewed and showed a profit for the month. In September, days cash on hand was 156 and days in AR was 79.
KCHD filed an interim cost report in September of 2019.
As approved at last month's meeting, a tractor was purchased to help maintain our facilities.
A motion was made by Mary Eikner to add Dennis Pearson as an authorized signatory on the KCHD checking account. Motion was seconded by Sylvia Shields. All aye.
CNO
Avera eCare can produce reports on EKG times that will be beneficial to quality improvement. Staff have reported the documentation component of Avera eCare to be extremely helpful.
Morgan Jones has opted to resign her position at KCHD as she accepted a teaching position at Otero Junior College.
HOSPITAL QUALITY & SAFETY
The Quality Report Scorecard was reviewed. There were no med errors this month. There were two falls with no injuries noted. We have one decubitus ulcer.
KCHD will utilize a new company, Press Ganey to perform our HCAHPS survey starting in January of 2020.
OLD BUSINESS
AVERA eCARE
KCHD implemented Avera eCare for the Emergency Department and has opted to sign the Hospitalist agreement with Avera to provide inpatient hospital services as well.
DEPARTMENT OF LOCAL AFFAIRS (DOLA)
KCHD continues to receive donations in support of the infrastructure project.
KCHD staff will visit with DOLA on November 5 regarding our infrastructure project. The grant proposal scored well and securing funding from El Pomar would be very helpful in demonstrating support for the project. We anticipate a final decision on funding from DOLA to be made in December of 2019.
BUDGET FY20
A draft budget was presented to the Board for FY2020. KCHD staff continue to revise the budget and will have a more complete version for the meeting in November 2019.
NEW BUSINESS
KIOWA COUNTY ECONOMIC DEVELOPMENT FOUNDATION (KCEDF) LAND PARCEL
Preliminary discussion with KCEDF regarding the feasibility of acquiring land for a future KCHD
campus near Prairie Pines has taken place. Both Boards acknowledge this is in the discovery phase only.
Staff from Eastern Plains Healthcare Consortium (EPHC) has connections to several graduate students that may be able to assist KCHD with a feasibility study.
ADJOURNMENT
The meeting was adjourned at 8:16 pm. Motion by Sylvia Shields and seconded by Kevin Davis.
All aye.
Respectfully submitted,
Kiowa County Hospital District Board
Sylvia Shields, Secretary-Treasurer