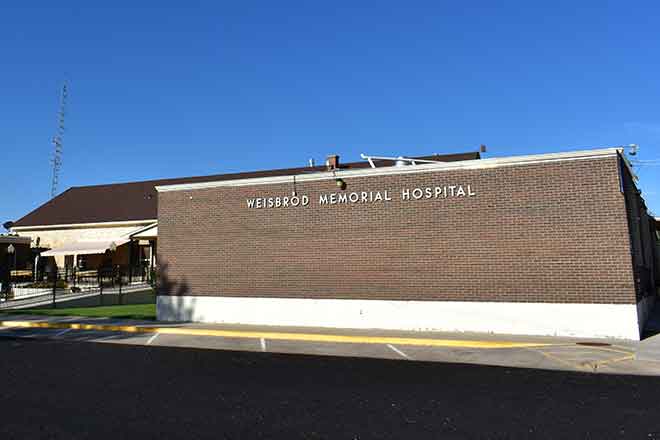 Published
Thursday, March 17, 2022
RECORD OF PROCEEDINGS
BOARD MEETING
January 25, 2022
The Kiowa County Hospital District Board met in regular session on January 25, 2022, at 6:34 p.m. at Cobblestone Inn Meeting Room.
District Board members present were:
Mary Eikner, Craig Kerfoot, Claire Prince and Ken Flory.
Absent - Kevin Davis.
Others present: Shannon Dixon, Gloria Trosper, Raina Kliesen, Matt Prince, Ellen Lane, Brent Frazee, Angela Linden, Braylynn Eder, Junior McDowell, Jeanette Filpi, Abby Huff, Chris King, Morgan King and Beth Spady.
CALL TO ORDER
The meeting was called to order by Craig Kerfoot, Chairman of the Board at 6:34 pm.
APPROVAL OF MINUTES
A motion was made by Ken Flory to approve the November 23, 2021, December 4, 2021, December 8, 2021, December 14, 2021, December 16, 2021, December 27, 2021, January 3, 2022, and January 19, 2022 minutes as presented. Motion seconded by Mary Eikner. All aye.
APPROVAL OF AGENDA
Mary Eikner made a motion to approve the agenda as presented. Motion seconded by Ken Flory. All aye.
PUBLIC COMMENT
There were questions and discussion regarding the recent changes to the Board bylaws and the timeframe for the resolution notice and the upcoming election cycle.
CREDENTIALING
Dr. Mark Flora, Dr. Frank Crnkovich, Dr. Eric Lyders, Dr. Benjamin Clower, Dr. Lori Thorndike, Dr. Jodi Fitzgerald, and Abby Huff, PA were approved for temporary privileges by Med Staff.
Dr. Andrew Weinberger was approved for telemedicine privileges by Med Staff. Motion to approve as presented by Ken Flory. Seconded by Mary Eikner. All aye.
Med Staff Bylaws Section 7.3 was amended to update the list of current providers that can perform medical screening examinations. Motion made by Mary Eikner and seconded by Ken Flory. All aye.
POLICIES & PROCEDURES
There were no changes to the Fire, Quality Assurance Performance Improvement, Just Culture, Compliance & Ethics, and HIP AA policies. All policies were reviewed by the Policy Committee and approved by Med Staff. Motion was made by Mary Eikner to approve the policies as presented. Seconded by Ken Flory. All aye.
STANDING REPORTS
CEO
No report this month.
CFO
The Board received a written report from the CFO.
After discussion, the Board has asked for additional information and pricing on rock that will be placed around the storage containers located in the northwest section of the KCHD campus.
The new tub lift has not yet been received. The door for Central Supply has been ordered but it will be several weeks before it ships.
CNO
No report this month.
HOSPITAL QUALITY, SAFETY, & COMPLIANCE
The Quality Report Scorecard was reviewed. Various measures including infection rate, medication errors, and falls were reviewed by the Board.
There was discussion regarding the number of clinic visits.
CLINIC
The clinic needs a new exam table. Staff are obtaining bids for the Board to consider.
OLD BUSINESS
HOUSING DEVELOPMENT
Brent Frazee visited with the Board about next steps for the housing project. The deed needs to be transferred by February 15, 2022. Groundbreaking is expected to be around the first of May 2022. The current structure does not have asbestos and will need to be demolished prior to groundbreaking. Agreements are being reviewed by legal. The Board will need to discuss financing options.
NEW BUSINESS
POSTING PLACES/MEETING SCHEDULE
The Board received a meeting schedule for 2022. After discussion, it was decided that the meeting time will remain at 6:30 pm. KCHD posting places will remain the same - Hospital, Post Office, Courthouse, and Clerk's office. In addition, meetings will also be posted on the KCHD website. Motion by Ken Flory, second by Mary Eikner. All aye.
ELECTION
KCHD will need two directors to serve a three-year term and two directors to serve a one-year term. The Board discussed working with the Fire District if both entities are required to hold an election.
Mary Eikner made a motion to approve the resolution to appoint Beth Spady as the Designated Election Official for the special district election scheduled for Tuesday, May 3, 2022 which we plan to conduct as a mail ballot election and may be cancelled if needed by the Designated Election Official. Motion was seconded by Claire Prince. All aye.
AMBULANCE AGREEMENT
The intergovernmental agreement between Kiowa County Hospital District and Kiowa County Commissioners for ambulance services in Kiowa County was reviewed. The agreement as presented includes three mills to KCHD for operations. After discussion, Ken Flory made a motion to ask if the County would increase the mills from three to four. Motion seconded by Claire Prince. All aye.
HOSPITAL AGREEMENT
The Board reviewed the resolution and agreement to terminate the intergovernmental hospital services agreement with Kiowa County. Motion made by Ken Flory to term the agreement between KCHD and Kiowa County. Motion seconded by Mary Eikner. All aye.
The Board has requested all documents be provided for review prior to the meeting.
INTERIM CEO INTRODUCTION
Jeanette Filpi, Interim CEO was introduced to the Board. The Board was invited to attend the Colorado Hospital Association Conference with Jeanette to be held March 2 through March 4.
ADJOURNMENT
The meeting was adjourned at 7:43 pm.
Respectfully submitted,
Kiowa County Hospital District Board
Mary Eikner, Secretary-Treasurer