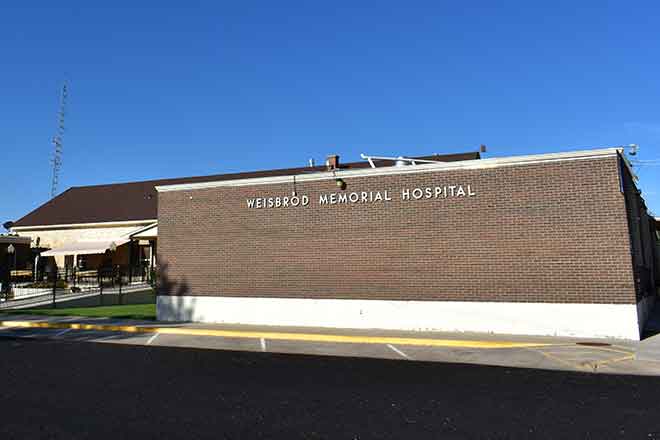 Published
Friday, April 30, 2021
RECORD OF PROCEEDINGS BOARD MEETING March 23, 2021
The Kiowa County Hospital District and County Board met in regular session on March 23, 2021 at 6:35 p.m. at Cobblestone Inn Meeting Room and via Zoom.
District Board members present were: Mary Eikner, Sylvia Shields, Craig Kerfoot, Meghan Buck, and Cathryn Anderson.
County Board members present were: Ken Flory, Kevin Davis, and Claire Prince. Absent - Dale Back (called).
Others present: Shannon Dixon, Char Korrell, Ellen Lane, Jessica Hyman, Dr. Lenderts, Michael Archer, and Beth Spady.
CALL TO ORDER
The meeting was called to order by Sylvia Shields, Chairman of the Board at 6:35 pm.
COUNTY VOTING MEMBER SELECTION
Kevin Davis, Ken Flory, and Claire Prince.
APPROVAL OF MINUTES
A motion was made by Craig Kerfoot to approve the February 23, 2021 minutes as presented. Motion seconded by Ken Flory. All aye.
APPROVAL OF AGENDA
A motion was made by Ken Flory to approve the agenda as presented. Motion seconded by Craig Kerfoot. All aye.
PUBLIC COMMENT
No one was present for public comment.
CREDENTIALING
Dr. Andrew Halpern and Dr. George Gustafson were approved for temporary privileges. Dr. Eric Wannamaker and Dr. Paraag Bhatt were approved telemedicine privileges by Med Staff. Dr. Timothy Hsu was approved for active privileges by Med Staff. A motion was made by Craig Kerfoot to approve all credentialing as presented above and seconded by Meghan Buck. All aye.
POLICIES & PROCEDURES
The Board reviewed and discussed the summary of policy and procedure revisions regarding housekeeping policies and EMT ALA policies. All policies were reviewed by the Policy Committee and approved by Med Staff. A motion was made by Ken Flory to approve all policies as discussed and seconded by Meghan Buck. All aye.
STANDING REPORTS
CEO
The HRSA 340B audit resulted in one finding. The only concern involved a reported date on our cost report through the HRSA site. This information will be reviewed and corrected if necessary.
There have been a few staffing changes at the clinic. Staff are working on plans for coverage.
Eastern Plains Healthcare Consortium (EPHC) is drafting a letter to the Colorado Insurance Commissioner expressing concerns over the cost of health care premiums in Region 8 which includes Kiowa County.
EPHC is also working on the Hospital Transformation Project which is due in April of 2021.
KCHD is working to implement Zero Suicide, which is a Centers for Medicare/Medicaid (CMS) measure by April 30, 2021. Staff are being surveyed to establish a data baseline. There are many components of this program which promotes system wide collaboration to ensure patients receive the care they need. Our partners in this project will include South East Health Group and Rocky Mountain Crisis Center.
CFO
The February financials were reviewed and showed a loss for the month but a net profit for the year. In February, days cash on hand was 189 and days in AR was 90. Staff continue to work on the audit and cost report.
Expenses are being submitted for possible reimbursement related to our evacuation incident.
The Board reviewed a full-time equivalent report pertaining to staffing in each department.
CNO
Dementia Hand in Hand training is being offered to all staff over the next few months. CNA staff are required to attend but all staff are encouraged to participate.
Staff continue to work on education and training as part of the EMT ALA survey.
KCHD pharmacy services will now be provided by Ben and Sharon Ferree. We are very appreciative of all the guidance and support offered by Arkansas Valley Accumed.
HOSPITAL QUALITY & SAFETY
The Quality Report Scorecard was reviewed. Various measures including infection rate, medication errors, and falls were reviewed by the Board.
OLD BUSINESS
DEPARTMENT OF LOCAL AFFAIRS (DOLA) GRANT UPDATE
Work on the roof is complete. There are a few issues with the generator that are being addressed.
Additional cameras are being placed throughout the facility.
COVID-19 UPDATE
A COVID vaccination event is being scheduled for Friday, April 2 from 8 am through noon.
KCHD continues to work closely with Kiowa County Public Health and Emergency Management to stay informed of changes regarding COVID-19.
HOSPITAL/ AMBULANCE AGREEMENT
The Ambulance Agreement was received. KCHD will rent office space to the County under the new agreement. The date of transition is scheduled for April 1, 2021 but will be dependent on the receipt of numbers needed for billing and general operations. Motion made by Meghan Buck to approve the ambulance agreement. Second by Craig Kerfoot. Ken Flory was recused from the vote. All aye.
HHSFUNDS
The HHS list remains the same but includes upgrades to the call light with video system. This upgrade will increase the threshold over $750,000. Total purchases over $750,000 will require KCHD to complete a single audit. The new call light system can be moved to the new facility. A motion was made by Kevin Davis to approve the purchase of the items listed with the upgrade to the call light system. Ken Flory seconded the motion. All aye.
NEW BUSINESS
ANNUAL EVALUATIONS
The Annual Evaluations for the Hospital and Rural Health Clinic were presented to the Board. A motion was made by Ken Flory accepting the annual evaluations. Motion seconded by Kevin Davis. All aye.
ADJOURNMENT
The meeting was adjourned at 7:48 pm.
Respectfully submitted,
Kiowa County Hospital District Board Mary Eikner, Secretary-Treasurer