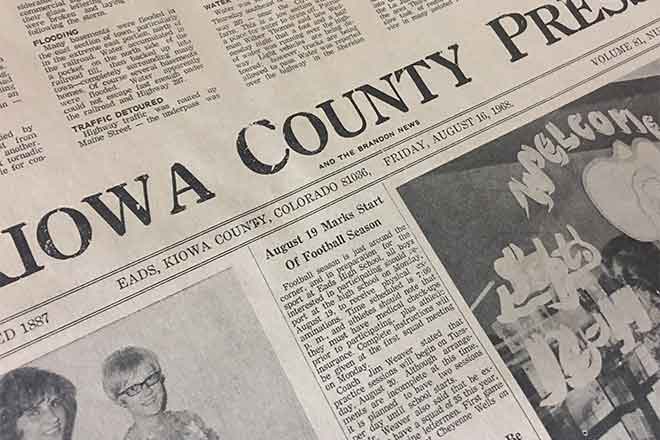 Published
Sunday, March 19, 2023
15 Years Ago
March 14, 2008
A 7.5-mile reconstruction of US 40/287 from Kit Carson west is schedule to begin March 17.
Brooke Crawford of Kit Carson is the 2008 Colorado Elks State Hoop Shoot Champion in the 10-11 age group.
The Eads High School Knowledge Bowl team came from behind to win the 1A Division and lock in a spot at the state championships.
25 Years Ago
March 13, 1998
Senator Jim Rizzuto was able to persuade the Joint Budget Committee to fund a $10.4 million purchase of the Union Pacific rail line, which runs between Towner and Pueblo.
40 Years Ago
March 18, 1983
Nursing Home News- LaVerne Fischer: Residents are excited about their new phone which was installed with a volume switch.
50 Years Ago
March 16, 1973
Fires originated by arsonists did damage estimated in the thousands on the former George Fuller farm near Arlington.
Gale winds gusting with velocities of 75 miles per hour whipped the Colorado High Plains, bringing rains from a trace to half an inch.