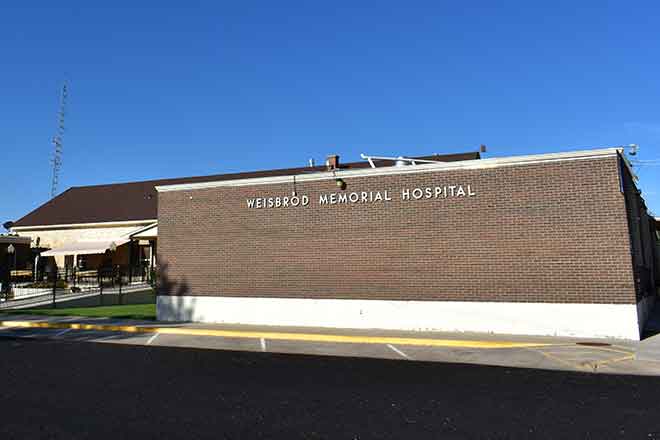 Published
Thursday, July 22, 2021
RECORD OF PROCEEDINGS
BOARD MEETING May 25, 2021
The Kiowa County Hospital District and County Board met in regular session on May 25, 2021, at
6:33 p.m. at Cobblestone Inn Meeting Room and via Zoom.
District Board members present were: Mary Eikner, Sylvia Shields, Craig Kerfoot and Meghan Buck. Absent - Cathryn Anderson (called).
County Board members present were: Ken Flory, Kevin Davis, and Pam Cole. Absent- Karl Eikenberg ( called) and Claire Prince ( called).
Others present: Renay Crain, Shannon Dixon, Char Korrell, Ellen Lane, and Beth Spady.
CALL TO ORDER
The meeting was called to order by Sylvia Shields, Chairman of the Board at 6:33 pm.
COUNTY VOTING MEMBER SELECTION
Kevin Davis, Ken Flory, and Pam Cole.
APPROVAL OF MINUTES
A motion was made by Ken Flory to approve the April 27, 2021, and May 5, 2021, minutes as presented. Motion seconded by Kevin Davis. All aye.
APPROVAL OF AGENDA
A motion was made by Craig Kerfoot to approve the agenda as presented with the addition of
meeting time change as a discussion item. Motion seconded by Meghan Buck. All aye.
PUBLIC COMMENT
No one was present for public comment.
CREDENTIALING
Dr. Chad Knaus, Dr. Aaron Gale, Dr. Richard Grzybowski, Dr. George Gustafson, and Dr. Steven
Foley were approved for temporary privileges by Med Staff. Dr. Jeffrey Alpert, Dr. Magill-Collins,
Dr. Dana Greene, and Judith Mago, PA were approved for privileges by Med Staff. A motion was made by Ken Flory to approve all credentialing as presented above and seconded by Craig Kerfoot. All aye.
Med Staff Bylaws Section 7 .3 was amended to remove Dawn Back, PA from the list of current
providers that can perform medical screening examinations. Motion made by Kevin Davis and
seconded by Ken Flory. All aye.
POLICIES & PROCEDURES
The Board reviewed and discussed the summary of policy and procedure revisions regarding
Medical Records and eEmergency Utilization policies. All policies were reviewed by the Policy
Committee and approved by Med Staff. A motion was made by Craig Kerfoot to approve all policies as discussed and seconded by Meghan Buck. All aye.
STANDING REPORTS
CEO
The Board was advised of a few staffing updates in the clinic and maintenance departments. Several candidates were interviewed for the Clinic Manager position and we anticipate a final decision will be made soon.
Centers for Medicare and Medicaid Services (CMS) is conducting audits of hospital websites
regarding price transparency requirements. KCHD has worked to ensure compliance with these
new measures.
The Health Resources and Services Administration (HRSA) 340B desk audit has been completed.
All required documentation has been updated and provided.
KCHD staff continue to work with the Hospital Planner on potential options for the new facility and opportunities to help with the expense of a new campus.
Special District Association (SDA) is having their annual meeting on Tuesday, June 29, 2021. Board members are encouraged to participate. More detailed information will be forthcoming.
Eastern Plains Healthcare Consortium (EPHC) continues to work on the Hospital Transformation Project (HTP). Several factors will be looked at for reimbursement under the HTP project. These factors include a link between emergency room and clinic visits within a thirty-day time span, social needs assessment for inpatients, records sent to primary care providers using EHR, measures related to behavioral health to reduce the use of opioids, and referrals to Colorado
Regional Health Information Organization (CoRHIO) and Regional Accountable Entities (RAE) for mental health and/or substance use concerns.
KCHD will be contacting Life Safety at the State soon so that they can perform a final inspection of our new lab space.
CFO
The April financials were reviewed and showed a profit for the month and year to date. In April, days cash on hand was 182 and days in AR was 88.
The Board has asked that the monthly Board packet be emailed each month.
The Board reviewed a full-time equivalent report pertaining to staffing in each department.
CNO
Staff are working to implement Zero Suicide at KCHD. All staff have completed surveys and will now participate in online education.
KCHD has one full time nurse, one PRN nurse, and one international nurse joining our staff in the
next week.
HOSPITAL QUALITY, SAFETY, & COMPLIANCE
The Quality Report Scorecard was reviewed. Various measures including infection rate, medication errors, and falls were reviewed by the Board.
The Board received an update on several quality, safety, and compliance projects at KCHD. In addition to the Zero Suicide project, KCHD has also formed a compliance committee. The compliance policy has been updated and work continues on the compliance plan.
OLD BUSINESS
DEPARTMENT OF LOCAL AFFAIRS (DOLA) GRANT UPDATE
KCHD will finish up the DOLA grant in the next few weeks.
COVID-19 UPDATE
COVID vaccines remain available. Recently, there have been no new cases in Kiowa County.
HHSFUNDS
The Board received an updated list of items proposed for purchase using HHS funds. A retention
bonus for staff was also discussed. The total bonus amount should not exceed $60,000. After discussion, a motion was made by Craig Kerfoot to approve the HHS list of items and the retention bonus if approved by the HHS consultants. Mary Eikner seconded the motion. All aye.
NEW BUSINESS
MEETING TIME CHANGE
The Board discussed changing the time of the monthly Board meeting. After discussion, it was decided to leave the meeting time at 6:30 pm.
ADJOURNMENT
The meeting was adjourned at 8:00 pm.
Respectfully submitted,
Kiowa County Hospital District Board
Mary Eikner, Secretary-Treasurer