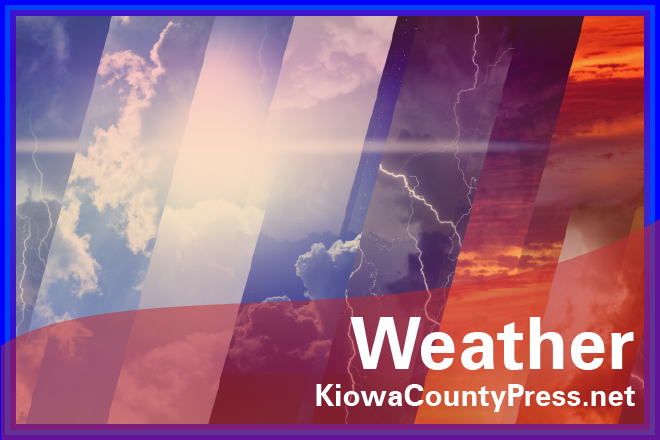 Published
Friday, May 31, 2019
As a warmup continues, high temperatures will increase another 5-10 degrees Friday across Kiowa County. Sunny skies return to the area as well.
While scattered afternoon and evening thunderstorms are possible over the southern mountains, the plains are expected to remain dry throughout the day. There is a slight chance a few storms could develop near the Colorado-Kansas border overnight.
High temperatures should reach the low 80s across Kiowa County. Light winds out of the east during the morning hours are predicted to shift to the south later in the day.
Overnight, look for temperatures in the low 50s with partly cloudy skies.
While Saturday is expected to see temperatures returning to the low to mid-80s, thunderstorms may make an appearance, particularly during the late afternoon and evening hours.
At 6:30 a.m. Friday, a wind gust of 7 mph was the strongest recorded since midnight in central Kiowa County. The temperature was 49 degrees.
Though Kiowa County is expected to be dry, some rain is possible across southeast Colorado Thursday. Potential for severe storms is limited.
Currently, KiowaCountyPress.net Live Weather from downtown Eads shows Missing wind at 255 mph. The temperature is Missing.
Elsewhere in Colorado, look for a quiet weather day. Warmer temperatures could prompt the return of seasonal snow melt in mountain areas over the coming days.
Kiowa County Weather Outlook for May 31, 2019

Community

High

Low

Chance of Precip

Wind Gust

Direction

Arlington

83

52

0

10

SSE

Haswell

81

51

0

10

SSE

Eads

82

51

0

10

WSW

Brandon

83

51

0

10

SW

Sheridan Lake

82

50

0

10

WSW

Towner

82

52

0

10

WSW
Weather information updated throughout the day is available at http://weather.KiowaCountyPress.net.