Image
Kiowa County weather outlook – week of July 12, 2020
Chances for rain return to Kiowa County's forecast to start the week, along with temperatures in the 90s continuing.
Thunderstorms – some severe – are possible in the county later in the afternoon Sunday into the evening up to midnight. While rainfall amounts of less than one-tenth inch are generally expected, higher amounts are possible where storms do occur. Potential for hail up to golf ball size and wind gusts to 70 miles per hour is also predicted. Brief tornadoes cannot be ruled out.
Temperatures in the mid-90s are expected before falling to the low 60s overnight.
Image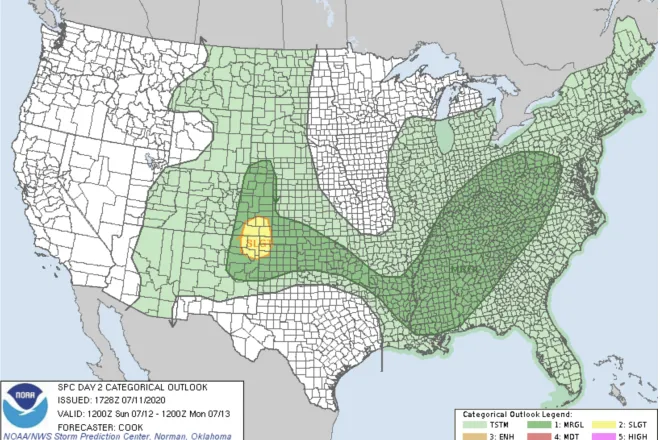 A chance for late-day thunderstorms returns Monday as temperatures across southeast Colorado soar to around 100 before falling back to the 60s overnight. As with Sunday's storms, less than one-tenth inch of precipitation is predicted. Hail up to quarter-size is also possible.
Marginally cooler temperatures set in for Tuesday and Wednesday, with afternoon highs predicted to be around 90. A slight chance for thunderstorms also continues each afternoon into the evening hours.
Daytime temperatures begin to rebound Thursday and Friday, with highs around the mid-90s, and little chance for rain.