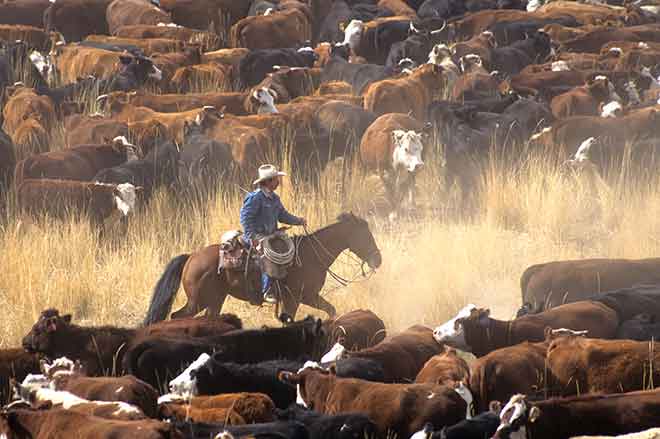 Published
Wednesday, June 29, 2022
(The Center Square) - Montana ranchers have had to cull back cattle because of drought and high hay prices, an industry representative said.
Cow-calf prices picked up by approximately 25 cents, but without something to sell, it won't help Montana ranchers, Montana Cattlemen's Association President Gilles Stockton said.
The U.S. Department of Agriculture expects beef production in 2023 to decline 7%, The Wall Street Journal reported. Cattle prices are projected to increase to record highs.
This early in the season calf prices are up to $2 per pound, making things look a bit more positive, according to Stockton.
"On the negative side, you can sell them for more, but you got to have something to sell," he said. "And here in Montana and eastern Montana they've culled back significantly, most everybody did because of the drought and the really, really high hay prices that we had to get cattle through the winter."
The higher costs for feed and other expenses have caused ranchers to sell calves into feedlots at a faster pace, according to federal data. Fewer cattle are left for slaughter later this year and in 2023, WSJ reported.
Stockton said central Montana has had some decent rain and looks like it will have hay and grass, but the northern, northeastern and eastern parts of the state still aren't out of the drought.
"And we've got corn prices going through the roof. That's another uncertainty," he added.
Those drought conditions have left grazing pastures parched and increased expenses because cattlemen must spend more on supplemental feed, ranchers and beef industry officials told WSJ.
The industry has changed significantly over the years too, Stockton noted. In the 50 years he's observed the market, the nation has gone from a system with smaller farms and ranches that were more diversified to fewer larger ranches.
Stockton said 200,000 farms, ranches, feedlots and chicken factories produce 79% of the food. Another 1.8 million produce 21%.
"They had the ability to adjust to what they thought the market or the conditions were going to be for the next season," he said. "But once you're tied up into an industrial model there's no diversification that you can do."
When he was a kid, everybody had sheep and cows, which turned into a good strategy for him. When sheep prices were down, cow prices seemed to be better. But the pressures of the market, of labor and the proliferation of coyotes made many ranchers give up the sheep, Stockton said.
Now Montana has one market for wool when it used to be the biggest wool producer in the United States.