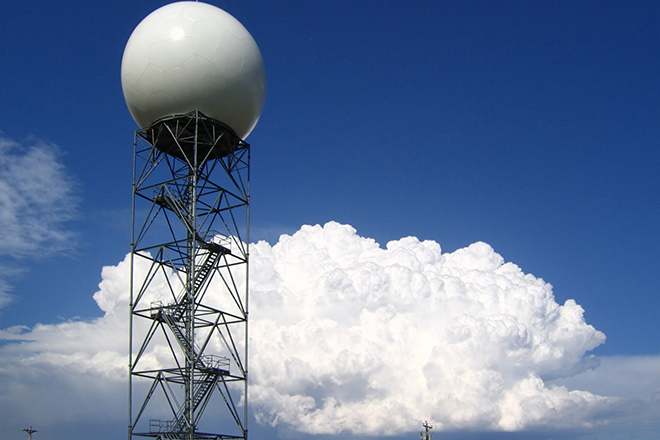 Published
Monday, June 22, 2020
The first full day of summer kicked off with a bang on Sunday as portions of the nation's midsection, from Texas to Wisconsin, were rocked by severe thunderstorms.
A line of severe storms fired up across the Upper Midwest on Sunday afternoon, leading to dozens of damaging wind reports and hail across portions of Iowa, Minnesota and Wisconsin.
Another line of severe storms roared to life across Kansas, later Sunday afternoon and prompted at least six reports of land-spout tornadoes in the northwestern portion of the state, according to the Storm Prediction Center (SPC).
@NWSGoodland about 10 minutes ago. 1 mile east and 4-5 miles north of Hoxie pic.twitter.com/Hbv9bNppS1

-- Adam Heim (@AdamHeim5) June 21, 2020
This line of storms pushed through much of western and central Kansas, before diving into Oklahoma, as the sun set on Father's Day. These storms left a barrage of damaging wind and hail reports in their wake, including several 80-mph wind gusts, as well as at least one report of 3.25-inch-diameter hail in Lorraine, Kansas.
Tumultuous weather will continue on Monday as an area of low pressure centered over the Great Lakes and an associated cold front stretches from Wisconsin to Texas, and prompts stormy weather across much of the central and eastern portions of the United States.
Much of the day's activity will take the form of typical summertime showers and thunderstorms across the eastern two-thirds of the U.S., however, more potent storms are in store for several locations.
The most widespread threat for severe thunderstorms Monday afternoon through Monday night will exist across portions of the southern Plains through the middle Mississippi Valley. Residents in these areas will need to keep their eye to the sky if traveling outdoors on Monday.
Many of Monday's most potent storms will develop along the edge of the area where strong storms from late Sunday night finally fizzle out.
Once storms initiate across the area on Monday, they will strengthen quickly and be off to the races. Storms that develop Monday afternoon will likely be able to produce torrential downpours, hail and damaging wind gusts with an AccuWeather Local StormMax(tm) of 70 mph.
A few cities forecast to be in the direct path of these bulky storms include Oklahoma City, Little Rock, Arkansas; along with St. Louis and Springfield, Missouri. Larger Midwest metros like Chicago and Indianapolis may also get into the action on Monday.
"Rounds of showers and thunderstorms will be capable of producing rain heavy enough to cause flooding," said AccuWeather Senior Meteorologist Carl Babinski.
Low-lying and poor drainage areas will be most at risk for flooding issues on Monday.
Farther east, another area primed for severe weather on Monday encompasses portions of the Northeast and mid-Atlantic.
Warm and humid conditions Monday afternoon will provide the perfect atmospheric fuel for a few heavy, gusty thunderstorms to fire up over portions of New York, Pennsylvania, Ohio, West Virginia, Virginia and Maryland, as a few upper-level disturbances move through the area.
Severe storms in this area are not expected to become as widespread and organized as those forecast to form from the Plains to the Midwest, but they will still be able to pack a punch. Damaging wind gusts up to an AccuWeather Local StormMax(tm) of 65 mph, heavy downpours and even some hail are possible in the strongest storms.
"Whether storms become violent or not, all storms can pose lightning dangers for those with outdoor plans," AccuWeather Senior Meteorologist Kristina Pydynowski said.
Those outdoors can utilize AccuWeather's exclusive MinuteCast(r) for their location to determine exactly when stormy weather will arrive.
The region will not have much time to recover from Monday's storms before another severe threat ramps up on Tuesday.
The same cold front responsible for Monday's severe threat in the Midwest will dig east on Tuesday. Areas most at risk on Tuesday extend from the Ohio Valley to the far southern portion of the Canadian Province of Quebec.
Storms will fire up from southern Indiana, to far eastern Michigan, early Tuesday, before becoming more potent and expanding across Ohio and much of Ontario, Canada, Tuesday afternoon. Residents of western Pennsylvania and New York, can expect to encounter these strong storms by early Tuesday evening.
Hail, flooding downpours and damaging wind gusts up to an AccuWeather Local StormMax(tm) of 65 mph are likely in the strongest storms.
A few locales in the path of Tuesday's storms include Detroit, Cleveland and Pittsburgh, along with Toronto and Ottawa, Canada.
The threat for severe weather is forecast to decrease on Wednesday, with no widespread areas of severe weather anticipated across the country.
However, rounds of showers and a few feisty thunderstorms will impact much of the Southeast both Tuesday and Wednesday. Repeated rounds of storms can lead to localized flash flooding and travel disruptions for the area.