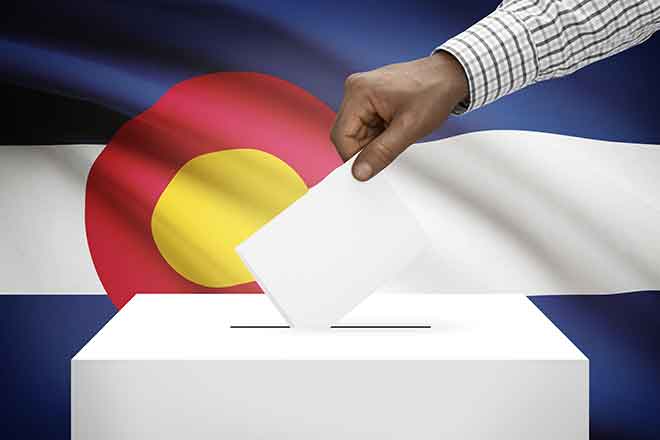 Published
Thursday, June 30, 2022
(The Center Square) - Over 1 million Coloradans cast ballots in the 2022 primary election Tuesday.
As of Wednesday afternoon, voter turnout was almost 28.5 percent, according to unofficial results from the Colorado secretary of state's office. The state has almost 3.8 million active voters.
In the governor's race, incumbent Democrat Jared Polis will face off against Heidi Ganahl, who beat Greg Lopez in the primary with more than 53 percent of the statewide vote.
Ganahl, a University of Colorado and businesswoman, accepted the Republican nomination for governor in a statement Tuesday night.
"Our team and our supporters are energized and ready to fight for our Colorado Way of Life," Ganahl said in her victory speech. "Let's tell Jared Polis this is an election, not an auction."
In the the U.S. Senate race, Democrat Michael Bennet is set to run against businessman Joe O'Dea, who won the Republican nomination against state Rep. Ron Hanks. O'Dea earned more than 310,000 votes, or 54.5 percent of total votes cast in the race.
"Beating Biden and Bennet is going to take a united effort, and after a tough primary, I'll work especially hard to win the support of Ron's many voters," O'Dea said. "Ron deserves a round of applause for his willingness to run and to serve."
Two state lawmakers will square off for Colorado's new 8th Congressional District. Republican state Sen. Barbara Kirkmeyer won 40 percent of the vote in the district to secure the nomination. State Rep. Yadira Caraveo won the Democratic nomination uncontested.
"This November we will make sure the voices of working families from Commerce City up to Greeley and back again are heard loudly in Washington," Caraveo said in a statement.
Kirkmeyer has been endorsed by Americans for Prosperity Action, a conservative advocacy group.
"With skyrocketing inflation and crippling gas prices, voters wanted a candidate who they can trust to rein in out-of-control spending in Washington - and they chose Kirkmeyer to send that message," said AFP Action Senior Advisor Jesse Mallory.
In Colorado's 7th Congressional District, state Sen. Brittany Pettersen, a Democrat, and Erik Aadland, an Army veteran, will square off to succeed retiring U.S. Rep. Ed Perlmutter.
"Together we will work to ensure #CO07 continues to be represented by someone who shares our values," Pettersen said in a tweet.
In the Colorado secretary of state race, Pam Anderson, a moderate Republican, fended off challenges from Mesa County Clerk Tina Peters and Mike O'Donnell to earn the Republican nomination.
Anderson will next face Secretary of State Jena Griswold in the general election.
"Tonight, Colorado voters nominated someone that is a competent, experienced professional for their candidate for Secretary of State in November," Anderson said in a statement. "They are sending a clear message to the current Secretary of State that they are ready to restore a trusted and fair leader to the office."
The general election will be held November 8.