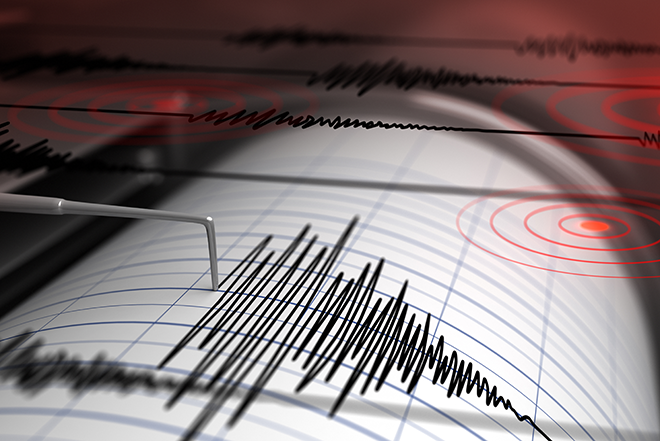 Published
Sunday, September 3, 2017
Note: This article has been updated to reflect additional earthquakes that occurred through 7:00 p.m. Wednesday.
A series of 322 earthquakes continue to be recorded east of Soda Springs, Idaho. The quakes began the evening of September 2 and have continued daily since then.
According to the United State Geological Survey, the first quake, measuring 4.3 on the Richter Scale, occurred just before 6:00 p.m. September 2. Less than two minutes later, a 5.3 quake - the strongest of the swarm so far - struck about a mile southeast of the first. Both occurred about six miles beneath the surface. Over 1,900 people throughout the area into Wyoming and Utah reported feeling the strongest quake.
Earthquakes measuring 2.5 to 4.5 have continued into since the original strong quakes struck, with the most recent, measuring 2.9, occurring at 1:33 p.m. Wednesday. The majority of the quakes occurred at a depth of three miles, though more recent earthquakes have been deeper.
Origianlly, all but a handful of the earthquakes occurred inside Caribou County, located in southeast Idaho near Wyoming and Utah. Within days, nearly one-third of the quakes had occurred inside Bear Lake County and measured between 2.7 and 4.3.
Local authorities have not reported injuries or serious damage.
Earlier this year, the mountains of central Colorado had a similar, though less powerful, cluster of earthquakes.
The Soda Springs area is known for naturally carbonated springs of water, and was an important stopping point on the Oregon Trail. A man-made geyser was created in the 1930s when town officials were attempting to create a warm water pool. The drilling operation created a geyser, which was later capped and is activat hourly as a point of interest for tourists.
September is National Preparedness Month
The month of September is National Preparedness Month. With recent disasters, every family needs a plan. KiowaCountyPress.net will be posting preparedness articles throughtout the month, including this week's article about planning for a disaster.
Your Safety During An Earthquake
If you are inside a building:
Drop down onto your hands and knees so the earthquake doesn't knock you down. Drop to the ground (before the earthquake drops you!)

Cover your head and neck with your arms to protect yourself from falling debris.

If you are in danger from falling objects, and you can move safely, crawl for additional cover under a sturdy desk or table.

If no sturdy shelter is nearby, crawl away from windows, next to an interior wall.Stay away from glass, windows, outside doors and walls, and anything that could fall, such as light fixtures or furniture.

Hold on to any sturdy covering so you can move with it until the shaking stops.

Stay where you are until the shaking stops. Do not run outside. Do not get in a doorway as this does not provide protection from falling or flying objects, and you may not be able to remain standing.
If getting safely to the floor to take cover won't be possible:

If getting safely to the floor will be difficult, actions before an earthquake to secure or remove items that can fall or become projectiles should be a priority to create spaces..

Identify an away from windows and objects that could fall on you. The Earthquake Country Alliance advises getting as low as possible to the floor. People who use wheelchairs or other mobility devices should lock their wheels, bend over, and remain seated until the shaking stops. Protect your head and neck with your arms, a pillow, a book, or whatever is available.

If you are in bed when you feel the shaking:

If you are in bed: Stay there and Cover your head and neck with a pillow. At night, hazards and debris are difficult to see and avoid; attempts to move in the dark result in more injuries than remaining in bed.

If you are outside when you feel the shaking:

If you are outdoors when the shaking starts, move away from buildings, streetlights, and utility wires. Once in the open, "Drop, Cover, and Hold On." Stay there until the shaking stops.

If you are in a moving vehicle when you feel the shaking:

It is difficult to control a vehicle during the shaking. If you are in a moving vehicle, stop as quickly and safely as possible and stay in the vehicle. Avoid stopping near or under buildings, trees, overpasses, and utility wires. Proceed cautiously once the earthquake has stopped. Avoid roads, bridges, or ramps that the earthquake may have damaged.