Image
Ag stats: Wyoming crop progress and condition report – week ending October 16, 2022
Precipitation levels were virtually zero for the majority of Wyoming for the week ending October 16, 2022, according to the Mountain Regional Field Office of the National Agricultural Statistics Service.
The exception was in isolated northern portions of the State. Some areas of Johnson, Big Horn, and Sheridan Counties received totals of about 0.2 to 0.4 inches of moisture. Portions of Campbell, Crook, Johnson, Park, and Weston Counties also received some moisture. Levels in these areas were in a range of trace to about 0.15 inches.
Temperatures were at or above normal in Wyoming, reaching as much as 8 degrees above average in parts of the west.
Drought conditions showed minimal improvement from last week. According to the US Drought Monitor for October 13, 2022, the amount of land rated drought free increased to 18.7 percent, compared to 18.2 percent the previous week. The amount of land rated abnormally dry fell to 34.8 percent, a decrease 0.3 percentage points from last week. Moderate drought stood at 26.4 percent, compared to 26.7 percent the previous week. Severe drought sat at 16.6 percent, an increase of 0.2 percentage points. Extreme drought was nearly unchanged at 3.5 percent, compared to 3.6 percent the previous week.
Image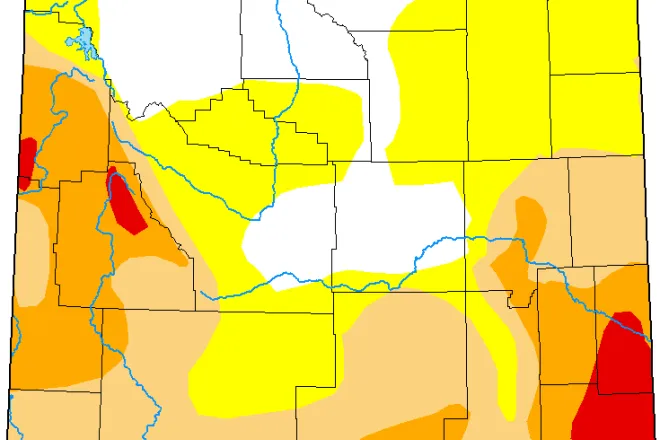 With the continuing drought in Goshen County, many livestock producers have already grazed their winter pastures and were feeding hay. There were major sales of livestock and deep culling in herds. Calves were being weaned early due to the dry conditions. A fourth cutting of alfalfa was underway in irrigated fields.
Moisture was needed in Lincoln County as conditions remained dry and cool.
Irrigation water supplies across the State were rated 24 percent very poor, 13 percent poor, 16 percent fair, and 47 percent good, compared to 32 percent very poor, 9 percent poor, 21 percent fair, and 38 percent good last week.
Stock water supplies across Wyoming were rated 14 percent very short, 46 percent short, and 40 percent adequate, compared to 15 percent very short, 37 percent short, and 48 percent adequate last week.
CROP AND LIVESTOCK PROGRESS

Commodity

Current week

Previous week

Previous year

5-year average

 

(percent)

(percent)

(percent)

(percent)

Alfalfa hay 

 
 
 
 

3rd cutting harvested 

82 

65 

92 

85 

Corn 

 
 
 
 

Mature 

85 

74 

86 

92 

Harvested for grain. 

4 

3 

17 

24 

Harvested for silage 

95 

89 

NA 

NA 

Dry edible beans 

 
 
 
 

Harvested 

87 

76 

95 

89 

Sugarbeets 

 
 
 
 

Harvested 

66 

46 

52 

52 

Winter wheat 

 
 
 
 

Planted 

94 

91 

NA 

NA 

Emerged 

84 

70 

95 

93 

DAYS SUITABLE FOR FIELDWORK AND SOIL MOISTURE CONDITION

 

Current week

Previous week

Previous year

5-year average

Days suitable for fieldwork

7.0 

6.4 

4.8 

6.1 

Topsoil moisture 

(percent)

(percent)

(percent)

(percent)

Very short 

38 

36 

29 

20 

Short 

38 

37 

42 

36 

Adequate 

24 

26 

28 

42 

Surplus 

-- 

1 

1 

2 

Subsoil moisture 

 
 
 
 

Very short 

48 

47 

31 

24 

Short 

38 

31 

49 

40 

Adequate 

14 

22 

19 

36 

Surplus 

-- 

-- 

1 

-- 

CROP, LIVESTOCK, PASTURE AND RANGE CONDITION

Commodity

Current week

Previous week

Previous year

5-year average

 

(percent)

(percent)

(percent)

(percent)

Alfalfa hay 

 
 
 
 

Very poor 

2 

1 

NA 

NA 

Poor 

4 

1 

NA 

NA 

Fair 

38 

33 

NA 

NA 

Good 

56 

65 

NA 

NA 

Excellent 

-- 

-- 

NA 

NA 

Corn 

 
 
 
 

Very poor 

4 

-- 

-- 

-- 

Poor 

4 

1 

-- 

2 

Fair 

16 

9 

6 

18 

Good 

76 

85 

87 

78 

Excellent 

-- 

5 

7 

2 

Pasture and range 

 
 
 
 

Very poor 

17 

14 

31 

16 

Poor 

24 

23 

39 

26 

Fair 

30 

33 

27 

37 

Good 

28 

29 

3 

20 

Excellent 

1 

1 

-- 

1 

Sugarbeets 

 
 
 
 

Very poor 

-- 

-- 

NA 

NA 

Poor 

-- 

-- 

NA 

NA 

Fair 

9 

13 

NA 

NA 

Good 

91 

86 

NA 

NA 

Excellent 

-- 

1 

NA 

NA 

Winter wheat 

 
 
 
 

Very poor 

5 

4 

-- 

3 

Poor 

21 

25 

8 

8 

Fair 

60 

57 

72 

38 

Good 

14 

13 

20 

49 

Excellent 

-- 

1 

-- 

2 

Livestock 

 
 
 
 

Very poor 

1 

-- 

-- 

-- 

Poor 

2 

1 

5 

2 

Fair 

19 

11 

38 

18 

Good 

70 

78 

55 

78 

Excellent 

8 

10 

2 

2