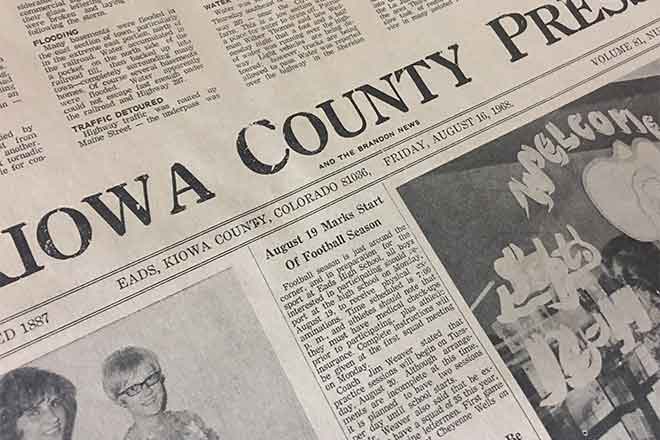 Published
Friday, October 6, 2017
15 Years Ago
October 4, 2002
Weisbrod Memorial County Hospital & Nursing Home was awarded with the Best Practices Program award in the state of Colorado
Wild Horse Roundup-Curtis Schrimp: Bev Bledsoe came by and took me to lunch. We talked over old times when we use to go deer hunting. I shot a big buck in some down timber. We had to lift it on a tree and climb over and there were quite a few. He said if I did that again I could stay and eat it.
Junior Miles Philpy proved again he is one of the better golfers in the state when he won the 4A Regional Championship for the second year in a row.
25 Years Ago
October 1, 1992
Advertisers in the Press. Do you remember Jolie Fashions - Lamar; Conrads - Lamar; Hologram - Lamar; Wheatland Cafe - Sheridan Lake; Ron & Diana's Draperies - Cheyenne Wells; Fashion Fabrics - Lamar; Carlucci's - Lamar; Twilite Motel - Eads; Kit Carson State Bank - Kit Carson; State Bank of Wiley - Wiley
40 Years Ago
October 7, 1977
The District Court upheld the Kiowa County Board of Commissioners' denial of license to sell 3.2% beverages in Towner.
Kiowa County officials should shortly receive a check from the Federal Government for first installment of "payment-in-lieu-of-taxes."
The family Farm Corporation of Barlow and Sons, Inc. was featured in a front-page cover article of the High Plains Journal.
50 Years Ago
October 6, 1967
Stuart Lujan proudly displays the bicycle he won at the close of Kook's paint sale at Eads Building Supplies Inc.
The congregation of the E.U.B. and the First Methodist churches combined services
Several families from Kiowa County attended the Holly Gateway Fair.
Ralph Lancaster, Otis Fischer and L.M. Johnson went to St. Louis, MO to attend the World Series in that city. Mr. & Mrs. W.H. Culver will also be in the group from Eads attending the game.
75 Years Ago
September 25, 1942
Rolland Koch has the distinction of being the first local boy to return home to Kiowa County after seeing action in the current war. Rolland has been in the Navy about 22 months in which he saw service in the Coral Sea battle. He was on the air craft carrier Lexington that went to the bottom. He spent about 2 hours in the ocean before being picked up.
100 Years Ago
September 28, 1917
Sheridan Lake: Carl Trower has the foundation in for his new garage. The building is to be made of vitrified tile with a south and east front and when finished will be quite an addition to the town.