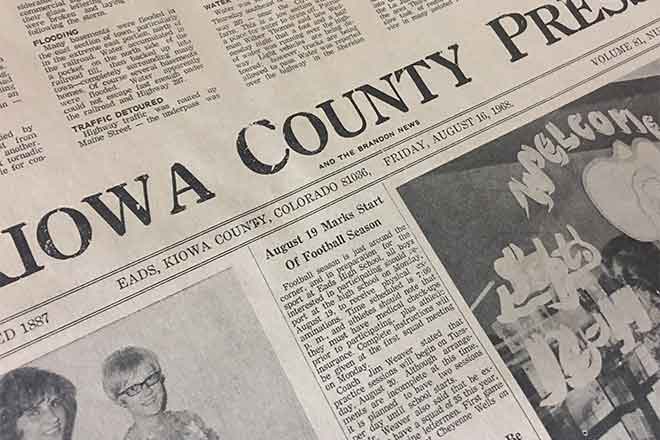 Published
Friday, October 20, 2017
15 Years Ago
October 18, 2002
The Eads School Band and director Dawn James, went to the Air Force Academy game to perform at half time.
25 Years Ago
October 15, 1992
Dear Customer: We have made the decision not to open the Cargill Elevator in Eads for Milo harvest.
Kit Carson News- Ruby Lafferty: Norman White returned home from the hospital. He was helping Leonard Friesen load cattle, when a steer knocked him down and kicked him in the face.
40 Years Ago
October 21, 1977
The Town of Eads offered to negotiate a 20-year franchise to Southeast Colorado Power Association that would cancel past franchise taxes if Southeast would cancel all past electric and pumping bills.
The largest purchase of new freight cars and locomotives in its history, the Missouri Pacific Railroad will spend $130,725,000 for new freight equipment to be delivered, John H. Lloyd, president, told the Kiowa County Press.
50 Years Ago
October 20, 1967
Van Brown recently reopen Frontier Truck Stop on Hwy 287. It is on a 24-hour schedule every day.
The assessed valuation for Kiowa County was recently approved by the State board of Equalization and shows a substantial increase over last year.
The Towner Boy Scouts Troop attended the football game in Boulder
75 Years Ago
October 16, 1942
After many years in the Nipps building this week Clyde Crow made arrangements to move his grocery and market into the building just north of the Press office in the post office block.
A train started a prairie fire 2 miles east of the state line. The fire burned about 6 miles of grass and some feed. Two hundred persons are reported to have been fighting the fire.
100 Years Ago
October 19, 1917
J.E. Ginder & son purchase the Princess theatre moving picture show from W.A. Root. Mr. Root is arranging to establish several shows further west, and expects to move with his family to Olney Springs in the near future.