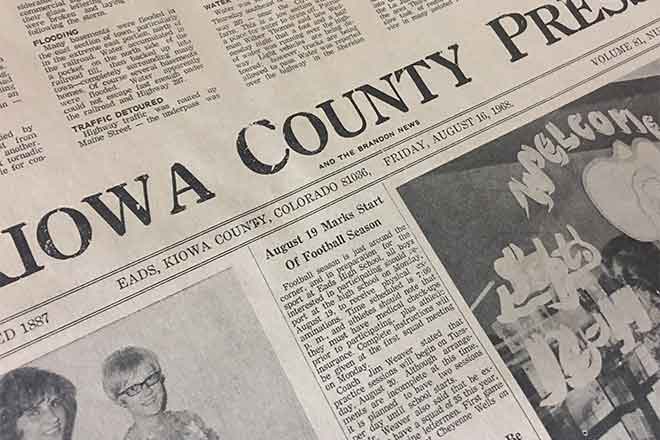 Published
Friday, December 29, 2017
15 Years Ago
December 27, 2002
This week's issue we departed from usual format to bring you review of Kiowa County 2002. There were 11 births and 50 deaths noted.
25 Years Ago
December 31, 1992
Gary Monter was named coach of the year by the Rocky Mountain News. Four Lady Eagles were named Rocky Mountain News Honor List of First or Second Team or Honorable Mention.
A large crowd turned out at the Community Building for the annual Christmas drawing.
40 Years Ago
December 30, 1977
Farm leaders from Bent & Prowers County have initiated a petition drive to reaffirm the interest in southeast Colorado for establishing the permanent pool at John Martin Reservoir
More than 100 persons attended the open house at Weisbrod Memorial Hospital.
50 Years Ago
December 29, 1967
Rick Huddleston, Senior linebacker from Plainview, was 1 of 8 players chosen by the Denver Post All State 8 Man Prep Football Defense Team. He was also chosen on the Rocky Mountain News All State Team.
Increase rates for all classes of mail except parcel post and metered mail to go up January 7.
75 Years Ago
November 14, 1942
Army Officials were in Eads checking records for names of persons owning a certain block of land south of Galatea and Arlington for a bombing range.
100 Years Ago
November 16, 1917
Joe Rumble is the new surgeon at Howard Sunday's hospital for Fords. Roy Wansted and Farrel Hines are the other two surgeons. Elra Warden is chambermaid.