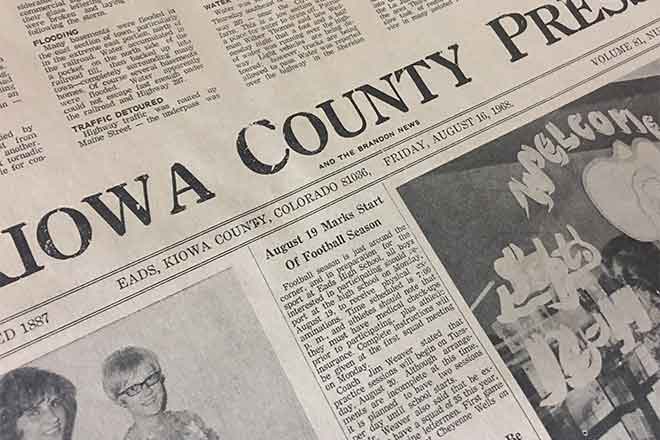 Published
Friday, January 12, 2018
15 Years Ago
January 10, 2003
Margie Wiltfang won the International Poet of Merit Silver Award from the International Society of Poets along with a bronze commemorative medallion and a 1-year membership to the International Society of Poets.
25 Years Ago
January 14, 1993
Weisbrod Hospital Board met in special session. Dr. Steven Buckles presented a prepared opening statement to the board regarding his resignation letters.
40 Years Ago
January 13, 1978
The Kiowa County ASCS committee will meet to establish "normal crop acreage" for each farming operation in the county
The Road and Bridge employees of Kiowa County were given across-the-board a 6% raise by the Kiowa County Commissioners.
The U.S. Department of Agriculture has reported 31 confirmed outbreaks of psoroptic cattle scabies in 8 states, including 1 in Kiowa County.
50 Years Ago
January 12, 1968
After being disconnected for a short time, the Eads Police Department phone has been reinstated to service.
75 Years Ago
January 1, 1943
The afternoon of Christmas day marked the beginning of heavy snowstorm and blizzard which lasted until Sunday. Although not considered a blizzard in which livestock could perish, it did prove to be a hardship for several local citizens. Elra Warden became lost at the Eads Livestock ranch north of town and wound up at the Clyde Crow residence west part of town.
January 8, 1943
The old cannon that stood in the court yard at Eads, so long pointed at Highland Utilities light plant, has gone to scrap heap-a good place for it. We were told some years ago that people of this community donated something over $500 freight when the outfit was brought here following the last war. We hope it will now justify some of that expense.
100 Years Ago
January 4, 1918
The Red Cross Ball & oyster supper given in Brandon New Year's Eve was the greatest success of any public entertainment ever given there. Over 240 persons present & net sum of $151 taken in for the benefit of Red Cross work, $126 being clear and above expenses.
January 11, 1918
Trains along the Missouri Pacific were delayed this week by snow. No trains able to get through on Wednesday but the track now is clear.