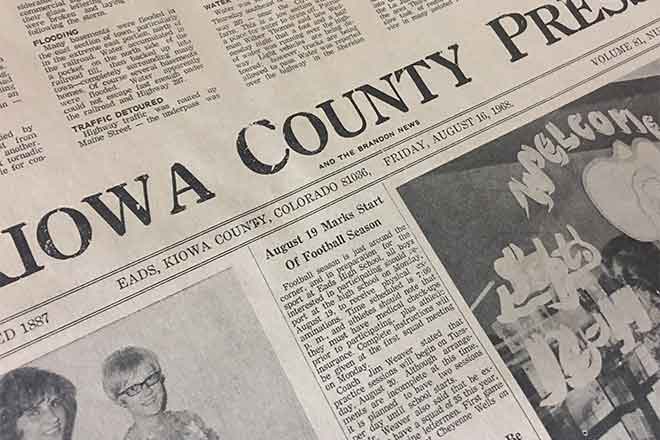 Published
Friday, January 26, 2018
15 Years Ago
January 24, 2003
Remington Brandt and Lori Weirich competed in the regional round of the Elks Hoop Shoot contest. Both got opportunity to advance to the regional completion.
Beth Stavely, Eads senior, has been nominated to compete in the National Honor Society scholarship competition.
Wild Horse Roundup-Curtis Schrimp: Congratulations to Kathy Bledsoe for winning Grand Champion with her Llamas at the Stock Show.
25 Years Ago
January 28, 1993
The regular meeting of the Weisrod Hospital Board was probably the most important meeting in many months. News reporters from KLMR, KVAY, and the Kiowa County Press were among the 12 visitors attending the public meeting.
Towner Tales- Ann Harkness: Total snow amounts for this winter have been reported anywhere from 20 inches around highway 96 to at least 31 inches in the south part of the county.
40 Years Ago
January 27, 1978
The Missouri Pacific Railroad plans no changes in personal and no immediate plans for any kind of construction in Kiowa County. The territory now stretches from Avondale, just east of Pueblo to the Kansas line just east of Towner.
The number of farms operated in Colorado during 1977 was estimated at 29,000, down 1% from 1976 according to the Colorado Crop & Livestock Reporting Service.
The Plainview Re-2 board of education declined to purchase television antennas for the school-owned home for teachers (teacher-ages) at Plainview.
A 45-mile, $2.7 million gas gathering system connecting 3 shut-in wells near Kit Carson, will be constructed by Colorado Interstate Gas Co.
50 Years Ago
January 26, 1968
Towner News: The Ladies Aid will send their cook book to be printed February 1. Anyone have recipes to put in be sure to send them to Mrs. Deward Anderson.
Faye Barber and Kathyrn Forster represented Kiowa County Business and Professional Woman's club at the state B.&P.W. winter board meeting. They report an interesting and pleasant meeting, with 145 women from across the state attending.