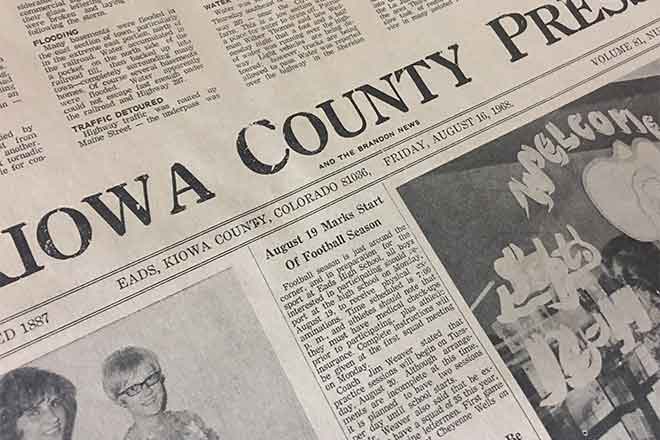 Published
Sunday, June 3, 2018
15 Years Ago
May 30, 2003
Keith Crow was the only person to submit a letter of interest to fill a RE-1 board position.
We, the members of the band "Startin' From Scratch", past and present, would like to express our appreciation to the many people of both communities allowing us to do your gig.
25 Years Ago
June 2, 1993
Paul and Glenda Stoker opened Stokes Video at 1213 Maine St in Eads. The store has 300 family-oriented titles to choose from and obtains titles as soon as a movie company releases them, providing a constant supply of material in VHS format.
Chad Barnett, Scotty Garrison, Chris Foster and Michael Seay traveled to La Junta to participate in the Ark-Valley Spring Special Olympics. All four athletes did very well and enjoyed themselves with a day of competition and fun.
A brief thunderstorm spawned a tornado 5 miles southwest of Arlington May 30. May 29 severe thunderstorm brought pea-size hail to central Kiowa County.
40 Years Ago
June 2, 1978
Eads High graduates 27. Twenty-three received diplomas at eighth grade graduation while Plainview had ten seniors and 4 from the eighth grade.
Postal rates went up make the new 15-cent rate for first class mailing.
Editorial-Paul Daniel: What are the answers to this growing community problem of theft and vandalism? Who knows? I am of the opinion, one of the answers lie with the fact that all offenders should be prosecuted to the fullest even for first offense.
50 Years Ago
May 31, 1968
Merlyn Henry, a junior at Adams State College in Alamosa, was recently nominated and accepted into the Blue Key National Honor Fraternity.
The ballroom dancing classes under the direction of Mrs. Sue Weaver were completed last Saturday at the American Legion Hall. About 80 students have been enrolled since January.
75 Years Ago
May 23, 1943
The Kiowa County Selective Service Board named nine young men to join the armed forces from this county for the month of June.
100 Years Ago
May 31, 1918
Cyclones are practically unknown in this state, but one with a path of less than 100' wide hit Brandon. Two heavy clouds, one from the north, a rain cloud, and one from the south green with hail met right over Brandon and that instant the twister struck. It jumped over D.M. Tripp's house and began to drop at the town well, throwing the windmill out of plumb a foot or two. Blew down the new framework of the Clifton residence, then passing between the garage and the depot, it stuck the elevator square and literally made kindling wood of it. E.C. Bell, Harry Traxler and Mr. Bell's little son were in the elevator when the cyclone struck. It seems almost a miracle that they were not killed or seriously injured.