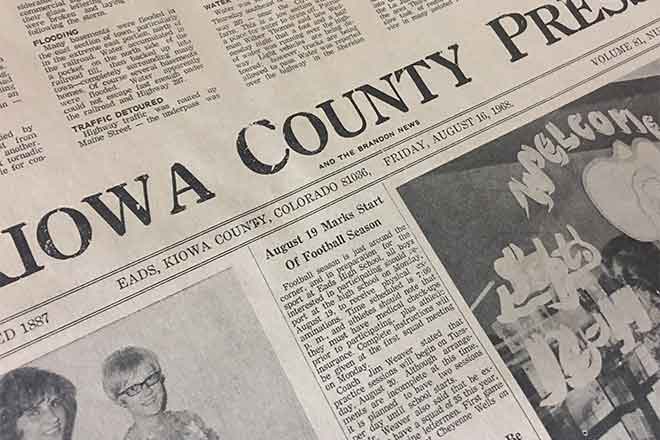 Published
Saturday, July 28, 2018
15 Years Ago
July 25, 2003
Laverne Eder has an interesting situation near their home on Goff St. There are no apples on the south side of the tree. Yet on the north side the tree is loaded.
The Kiowa County Sheriff's Reports appears regularly in the Press. Minor incidents, such as "dog at large," are not included in the report.
The National Park Service has acquired 40 acres within the boundaries of the Sand Creek Massacre National Historic Site that marks further progress toward the establishment of the site as a unit of the national park system.
25 Years Ago
July 28, 1993
Towner News-Ann Harkness: There are still farmers trying to finish cutting their remaining wheat and rain has slowed the completion of harvest for them a day or two.
40 Years Ago
July 28, 1978
The article on page 1of the July 14 Kiowa County Press regarding the need for nurses in Eads has apparently brought good responses
Tornado force winds, if not a tornado itself, ripped through Eads dumping over 3.5 inches of rain in 30 minutes or less. The major damage to the building at 1213 Maine St. which houses Dr. John Hines dentist office and Charles Bowen Tax Services. Neither offices themselves were damaged but the roof at the rear of the building collapsed.
The Karval Keenagers, a band comprised of senior citizens from Karval area, played to a packed house at the Weisbrod Nursing Home.
50 Years Ago
July 26, 1968
What happen to Saturdays? In years past, Saturdays were important trade day for most in rural communities. It was a day most rural families came to town to do their shopping and take in a Saturday matinee.
Because of Congressional mandate to cutback Federal employment to June 30 1966 levels, mail service limitation will start July 27.
75 Years Ago
July 23, 1943
Last Monday evening, much fast work was accomplished at the Commercial Hotel north apartment when Mrs. F. M. Hart discovered smoke coming from the apartment of Mrs. Bob Carter. An electric motor on their ice box caught fire causing considerable damage to the equipment and badly smoking up the interior of the premise.
100 Years Ago
July 26, 1918
The great interest manifested by the oil world in general at the announcement of the striking of oil sand here has been manifest every day. No less than 20 prominent geologists and oil operators have been all over Eads field during the past week.