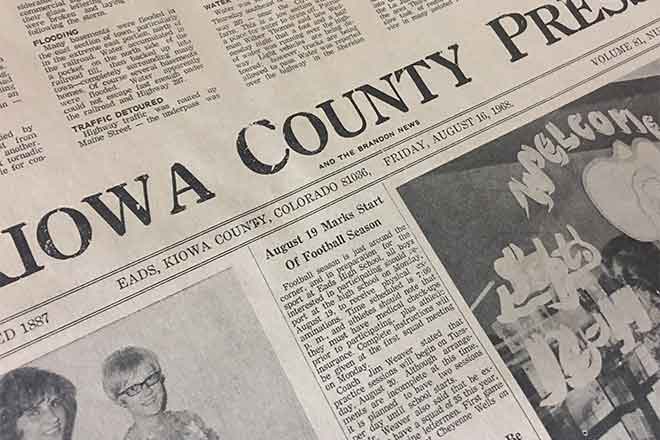 Published
Thursday, September 27, 2018
15 Years Ago
September 26, 2003
* Amity Mutual Irrigation Company concluded a $350,000 reconstruction of the Nee No She dam with a dedication ceremony.
* Skylah Lyon-Filbeck named the cutest baby at the 2003 Kiowa County Fair. Second place was Jayden Kiniston with Hatch Nelson being third. There were 15 other entries in the contest and each will receive a book and certificate.
* Wild Horse Roundup-Curtis Schrimp: It's Saturday night, 9:00 p.m., and we have just come home from the Ernie Hammer's end of the summer party. There was a very large crowd with lots of eating and visiting.
25 Years Ago
September 29, 1993
* David Parker: Sources have told the Kiowa County Press, that federal agents are looking into the buying and selling of farmland by people involved in the sludge business.
* Nursing Home News-LaVerne Fischer: Our group was pleased to be visited by the Springfield Kitchen Band, a group of elderly ladies who beat their pots and pans keeping time with piano music.
40 Years Ago
September 29, 1978
* During a 20-day period when the state holds an average census to determine how much state funds will be received by the school district each year. A student is worth $84.76 as long as they attend school in the 20-day period.
50 Years Ago
September 27, 1968
* Brandon News: A clump of buffalo grass dug up in the yard of Oren White by Mr. & Mrs. Ira Dobyns of Albia, Iowa, is a green spectacle in their yard. Maybe not unusual in a rainy country such as Iowa, except for the fact the grass withstood a trip to California and Oklahoma and on through the Ozark Mountains in Arkansas before being transplanted by them on the return home.