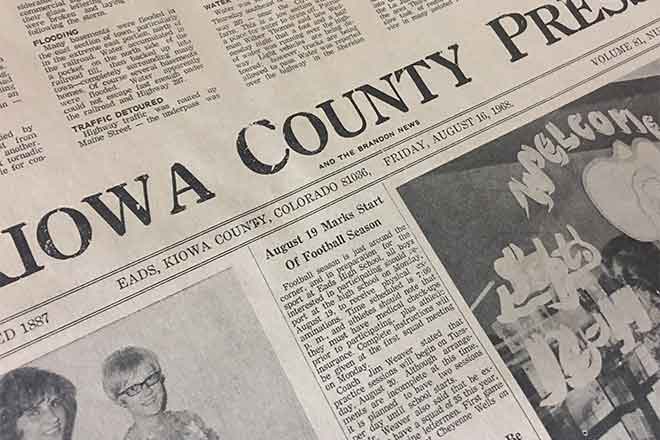 Published
Sunday, January 17, 2021
15 Year Ago
January 20, 2006
About Town- Melissa Peterson and Doris Lessenden: I never knew the wind could blow so much or so often. Older folk say this is nothing compared to the "dust" days of the 30s or 50s.
Kit Carson Clips- Marilyn White: Do you realize, in about 40 years, we will have millions old ladies running around with tattoos?
East End Events- Lana Weber: Rodney and Debbie Shiver watched awesome Broncos game with the Weber's this past weekend. Of course, when I came to watch, the Bronco's weren't playing too well. Then Mom made me do laundry. When I came back, they were playing brilliantly. What can I say? Laundry is good luck.
25 Years Ago
January 19, 1996
FSA Update- Rod Johnson: The FSA office has employees with total experience of more than 100 years! Claudette-37, Rod-25, Walt-13, Nadene-12, Charlotte-10, Dawna-5, and Charla (the new kid on the block) is in here first year.
KVAY to broadcast the 5th Annual Academic Bowl live from Lamar Community College. High school students throughout the Arkansas Valley will vie for the Championship honors.
40 Years Ago
January 16, 1981
Three Plainview School musicians were selected to represent their school at the 1981Arkansa Valley Music League High School Honor Band.
A traffic accident involving a tractor-trailer rig resulted in heavy damage to the truck and killed nearly 300 sheep.
50 Years Ago
January 15, 1971
John Crow, Weisbrod Memorial Hospital administrator, announced the plans to expand the health care facilities. The expansion will include installation of Intensive Care Unit.
75 Years Ago
January 11, 1946
Bob Woodworth completed a transaction whereby he became the owner and operator of the Eads-Lamar Truck Line. B.W. Fischer has operated the line for some time, having purchased it from C.G. Finney.
100 Years Ago
January 14, 1921
Again Saturday night, they tripped the light fantastic out at George Eder's. A big crowd was present and the good music was furnished by Mr. Borneman, accompanied by George Weber. Those that were not there in the early evening missed a good time. A few solos were rendered by Mr. Weber and some clown acts by "Mart Kirby in the turbin hat."