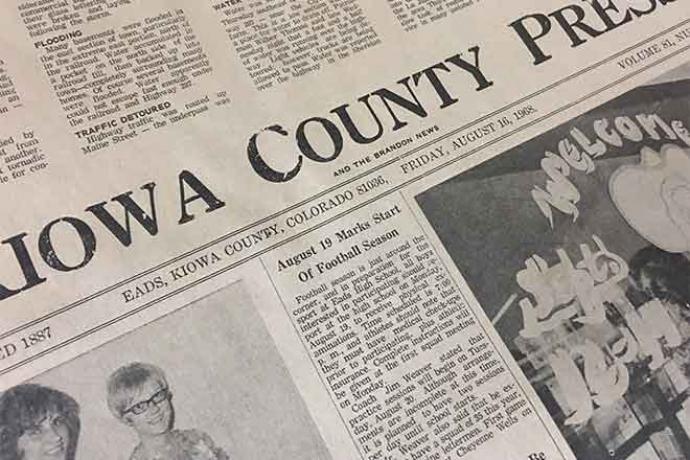 Published
Tuesday, October 16, 2018
15 Years Ago
October 17, 2003
The Kiowa County Commissioners decided to proceed with a project that will bring a 20-bed assisted living center to property just south of Eads.
Wild Horse Roundup-Curtis Schrimp: Our window washers from Norway are sure appreciated.
Wild Horse Roundup-Curtis Schrimp: It was real foggy here when I went down to Marty's ranch, and when I got there the sun broke through and you will never see a more beautiful sight than the cottonwood trees with all their color. So we don't have to drive to the mountains to see beautiful trees.
25 Years Ago
October 20, 1993
About Town-Ida Lessenden: We were surprised to see a lot of water in the prairie ponds near Kit Carson. I was told it rained 2 inches just before daybreak. Our gauge listed four and a half tenths
40 Years Ago
October 20, 1978
Ted Addington shows off a yucca (soap) plant bloom which he discovered last week at his ranch. The plant rarely blooms after May.
Final papers have been signed completing the sale transaction of the Eads First National Bank to Eads Bancorporation.
Eighteen-inch rattler was killed in the front yard of 1000 Kerr by Mrs. Fred Ross.
Sheridan Lake Ripples-Mrs. Oren White: Linda Weber, senior, was crowned homecoming queen at halftime during the Plainview-Manzanola football game.
50 Years Ago
October 18, 1968
Twelve Boy Scouts of Troup 233 of Towner, camped 3 days at the site of the Indian battleground north of Chivington. [Editor's note: this is the language used in the article 50 years ago. The location is now known as the Sand Creek Massacre National Historic Site.]
Mrs. Daniel Hawk of Lamar read in the Lamar Daily News of Mrs. Jim Adamson of Chivington talked before a group of Missionary women about her native France. Mrs. Hawk also a native of France, was thrilled to learn of a Frenchman near home since coming 9 years ago.
75 Years Ago
October 15, 1943
A prairie fire of unknown origin at the Kelly Lindholm farm east of Eads threatened to destroy their new chicken house, some farm machinery and other property.
100 Years Ago
October 18, 1918
The school is closed indefinitely by order of the health officer to help in stamping out the plague of Spanish Flu. The Children will not lose by this. They are needed now on the farms to help harvest the crops more than at any other time. When school opens, we will probably go on the six days a week basis until the lost time is made up.
Kiowa County has raised its apportionment of the Fourth Liberty Loan. Many counties of the state have also gone over the top.