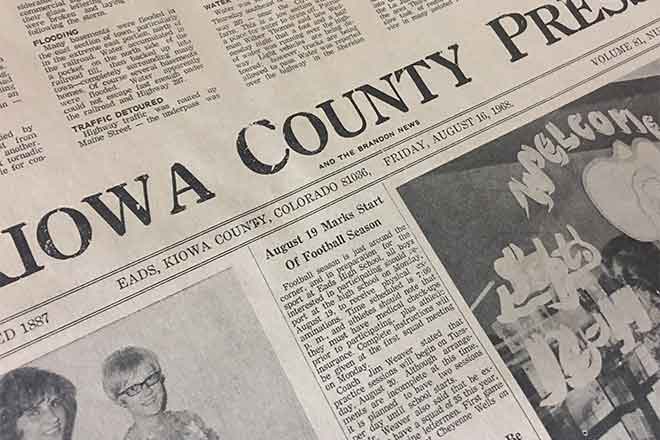 Published
Friday, November 9, 2018
15 Years Ago
November 7, 2003
Construction of the new water tower north of Eads completed.
Wild Horse Roundup-Curtis Schrimp: Seven head of turkeys were parading back and forth across the highway east of our house. With all the traffic, I don't see how they kept from being hit.
25 Years Ago
November 10, 1993
October 30, Eads Eagles beat Mountain Valley in a preliminary football playoff. Within hours, vandals were celebrating the win by trashing the business district in Eads.
40 Years Ago
November 10, 1978
Sheridan Lake Ripples- Mrs. Oren White: Eight youngsters and six adults consumed 7 large pizzas at the Pizza Party at Mr. & Mrs. Jay Coffman's home following the football game played at Arapahoe.
50 Years Ago
November 8, 1968
Weather in these parts have been on the cool side with several overcast days. Moisture conditions are not good in this area, as many wheat fields are showing signs of dry weather.
75 Years Ago
October 29, 1943
For the first time in history of the local bank, deposits have reached the million-dollar mark.
The first snow fall of the season and was of much value to farmers who are using mechanical corn pickers. The moisture helped prevent the ears from falling off the stock when the machines operate.
100 Years Ago
November 8, 1918
Work on the Eads Mill and Elevator is progressing rapidly. Few people realize the size and completeness of this new industry. Whitelaw & Co is following the spirit of progressiveness by having electric lights placed in the store
The epidemic of influenza in Eads is much improved and looks as if it will end in another week.
The Allied well seems to be a boo-hoo Another tool has gone to pieces before lowering in the hole.