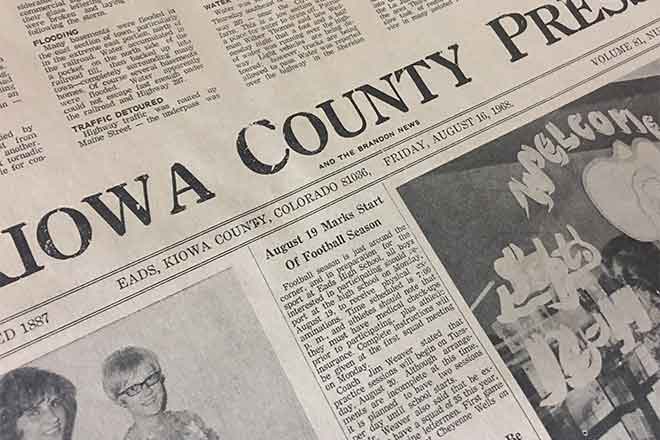 Published
Wednesday, December 12, 2018
15 Years Ago
December 12, 2003
Bill Woelk was one of five school board members from across the state who were honored at the Colorado State School Board Association conference.
East End Events-Kami Stum: It would be well worth the drive to the Dick and Sharon Scott home to see their lights and other Christmas decorations.
25 Years Ago
December 15, 1993
From his home in the North Pole at exactly late afternoon Santa Claus boarded a twin-engine plane and headed for Eads. Santa was met at the airport by Deputy Sheriff Joe T. Pettie and escorted to the Saffer Spray building on Maine.
40 Years Ago
December 15, 1978
Voters approve hospital levy increase. The increase in the mill levy will mean the hospital will be able to pay off past deficits which have plagued the district.
KLMR FM will go on air in time for the holiday season. KLMR FM, sister to station KLMR AM, will operate at full 100,000 watts of power both daytime and nighttime.
Sheridan Lake Ripples-Mrs. Oren White: Ralph Hallock is the youngest member to ever serve on the Board of Directors in the Rocky Mountain Farmer's Union.
50 Years Ago
December 13, 1968
A number of retail businessmen in Eads have indicated that they will remain open longer hours for your Christmas shopping convince.
Brandon New: Wayne Tallman won himself a turkey at the Turkey Bingo in Cheyenne Wells.
75 Years Ago
December 3, 1943
Eads High School authorities are making plans for an invitational tournament to be played in the local gymnasium.
100 Years Ago
December 6, 1918
City Marshall George Crow closed the pool hall. The cigar, tobacco and confection part will remain open. The Marshall deserves much credit for his actions during this time of epidemic.
100 Years Ago
December 13, 1918
Dr. Joe S. Leslie was in Eads registering as a practicing physician in this county. He will be located in Towner.
Mrs. Walt McKeever had a narrow escape when her stove exploded in her face catching her hair on fire and badly burning her face.